Product Information
DIMENSIONS: H 900-930 x W 602 x D 602mm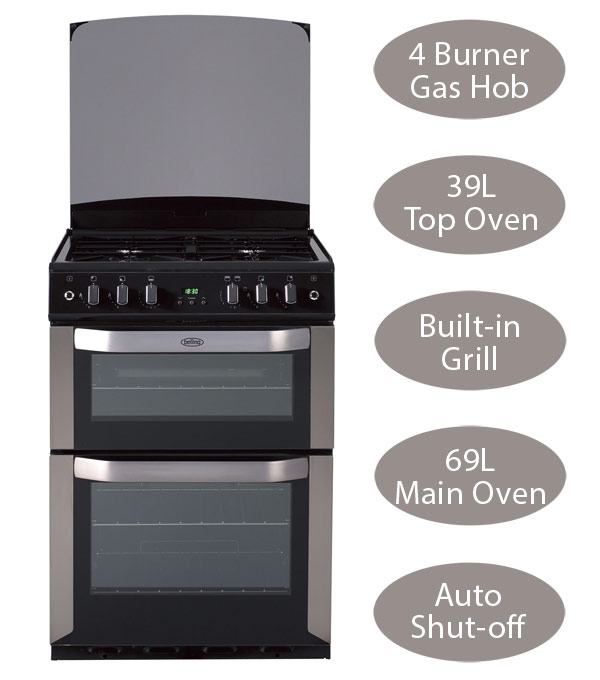 Providing everything you need for cooking and baking with perfect results, the Belling FSG60DOP double oven gas cooker is the ideal addition to your kitchen, helping you to prepare more at once. Offering a number of safety features to provide a safer cooking environment, this cooker gives you peace of mind while you work.
GAS HOB
The four burner gas hob offers efficient cooking with a stable platform to rest your pans. With three differently sized burners, you can easily match your pan or pot to the burner most suited to its size. Enamel pan supports are strong enough to withstand even the heaviest of pans, offering a robust support while you cook.
TOP OVEN AND GRILL
Great for larger meals where the main oven is in use, the 39L top oven provides vital additional space for cooking extra items. With the ability to set this oven at a different temperature, you can make sure each dish is cooked to perfection.
The integrated grill offers an alternative cooking option. Ideal for grilling meat and fish for a quicker meal, or even preparing a full English breakfast, you can even grill items while the main oven is used for cooking or baking. The separate ovens even help to prevent any flavour transfer between items, producing perfect results.
MAIN CAVITY
69L in capacity, the main oven provides ample space for producing bigger meals. This conventional gas cooking provides an effective cooking environment, reaching your desired temperature in much less time than an electric oven. With two wire shelves, there is plenty of space for cooking multiple items together, while the choice of five levels gives you the ability to cook bigger items.
USEFUL FEATURES
A built in digital display helps you to keep track of time when cooking, ensuring you don't overcook dinner. Including a programmable timer, you will be notified when your food is ready, helping you time every meal perfectly. You can even set the timer to switch the oven off when your dish is ready.
Enamel lined, the cavity can be cleaned quickly with a simple wipe while the inner door glass can be removed for a more thorough clean.
SAFETY FIRST
The gas hob provides flame safety devices, shutting off the flow of gas if the flame goes out. The useful glass lid protects the hob when not in use, even shutting off the gas supply and extinguishing flames when closed.
FEATURES
Main Cavity
Conventional gas oven
Rear light
2 oven shelves
5 shelf positions
Flame safety device
Cook to off programmable timer
Easy clean enamel
Top Cavity Features
Conventional gas oven with electric grill
1 oven shelf
2 shelf positions
Flame safety device
Hob Features
4 gas burners
Flame safety device on all burners
Gloss enamel pan supports
Glass lid
Push button ignition
Rotary control
Other Features
LED clock/programmer
Easy clean enamel
Fascia cooling system
Dimensions (mm)
H: 900-930 x W: 602 x D: 602