Product Information
GRADE A2 - Light cosmetic damage
Prepare to be blown away by this state-of-the-art Dyson fan. A godsend in the hot weather, this fan packs a powerful airflow that will make you never want to go back to a normal fan again!
Awarded for Improved sound quality from the Noise Abatement Society, you'll be able set a relaxing temperature anywhere in your home, without being disturbed by noise!
This unique, modern, smoothly designed fan will become a statement piece and a talking point for people coming into your home, as well as cooling your home down - perfect for those who are looking to keep their home style intact!
Dimensions: 1110/1410mm
Weight: 3.9KG
2m cord length
Smooth, uninterrupted cooling:
With Dyson's air multiplier technology™, this silver/white fan creates airflow paths that channel cool, soothing air around your home within minutes. Grabbing air from the surrounding area, the fan draws it though its aerodynamic hoop at a high velocity, resulting a powerful and constant stream of air.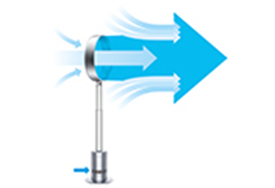 35% quieter:
With just one sleek hoop to go through, rather than a series of blades, means that the air flows through in one quiet stream, rather than being chopped up by blades, which is where the noise generated by regular fans comes from!
Channelling air in one smooth jet, results in a super quiet fan for when you're sleeping or having a post-lunch siesta. It's also invaluable if you want cooling down without having to turn the TV volume up or raise your voice.
Consuming 15% less power than its Dyson ancestors, you'll find that this dynamic Dyson fan will make very little difference to your noise level or pocket in the long run.
Outstanding movement control:
A highlight of this silver smooth Dyson fan is that you can control exactly where it cools. At the touch of a fingertip, you can precisely control where the fan blows, so that you can target specific areas such as a hot head or a bed.
Pivoting on its own centre of gravity, you can tilt this fan up to 10 degrees in either direction, covering from the tip of your head to the toes on your feet!
Control from the comfort of your couch:
With a sleek, magnetic, curved remote control that fits snuggly onto the main machine, This Dyson cooling fan can be controlled comfortably from wherever you are at the push of a button!
With 10 airflow settings, and sleep timer settings on the remote that vary between 15 minutes and 9 hours, you have exact control over how much, and when you want cooling, whereas the oscillation control allows you to tailor the temperature and tilt to the perfect level for the room and your own comfort - what's not to love?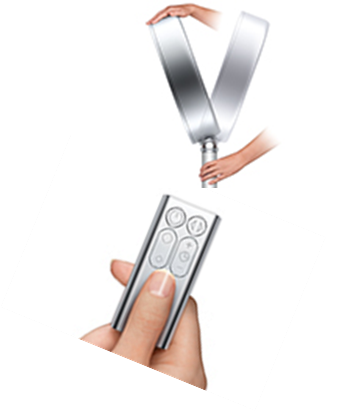 Easy to clean:
With no awkward blades or grills, cleaning this Dyson fan is super easy, ensuring that you're always getting clean air blown through your room - perfect to reduce allergens and dust being blasted through the room!
Safe:
Being both bladeless and smooth, this is the ultimate pet-friendly and child-friendly fan! With nothing for fingers or paws to get caught in, you can leave this dynamic Dyson running without having to check that no one has got caught in it every few minutes!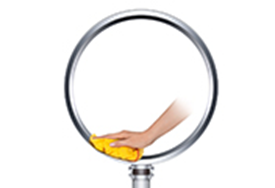 Powerful airflow with 10 settings
35% quieter
Precise movement control at the touch of a fingertip!
Remote control for quick and easy adjustments
Consumes 15% less power