Product Information

This is a graded product. A1 products have no obvious scratches, marks or dents. It will be fully bubble-wrapped for transportation and comes with the full manufacturer's warranty.
GRADE A1 - As new but box opened
Enjoy the latest Air Conditioning technology with the new range of electriQ inverter wall-mounted Air Conditioners, now Wi-Fi SMART Kit Enabled.
ENERGY EFFICIENT
This cost-effective, energy-efficient unit will economically cool or heat rooms up to 30sqm in size. It comes with an impressive 5 year warranty and has an exceptional energy efficiency rating of A++ for cooling and A+ for heating. It's equipped with the very latest inverter technology that will reduce or increase the compressor speed according to fluctuation in temperature dependent on your required heating and cooling levels, thus saving you between 30%-50% on your energy bill when compared with a non-inverter equivalent which has fixed compressor speed. It also features an ECO mode that saves over 60% power over 8 hours.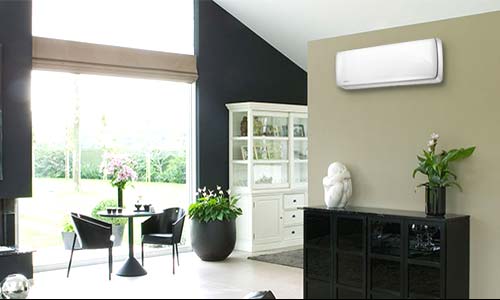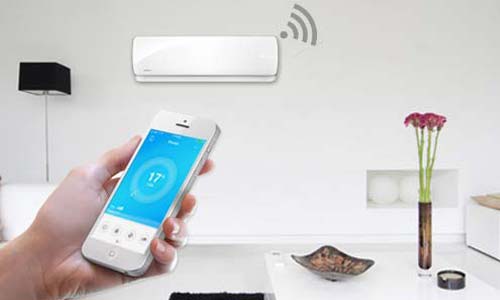 CONTROL VIA YOUR SMARTPHONE
This new and improved electriQ air conditioner has the added advantage of being Wi-Fi enabled. Simply connect a USB Wi-Fi adapter (sold separately here) to this air conditioner and enjoy enhanced control via your smartphone.
Use your smart enabled device to monitor and manage the temperature, fan speed, functionality and timer settings from practically anywhere. For example, say your car is stuck in traffic and you're going to be late home by 30 minutes, just pop your smartphone out and set the air conditioner to turn on 30 minutes later. Easy. By connecting the Wi-Fi adapter you'll gain instant access to your air conditioner 24 hours a day, thus giving you more control of your energy usage and electricity bills.
Features:
Outputs 12000 Btu/h (variable speed inverter)
A++/A+ Rating (ERP Certified)
(Wi-Fi SMART Kit Enabled (sold separately here)
Super DC Inverter with GMCC Compressor*
Cooling, Heating & Dehumidifying
Easy Fit with 5 meters pipe and cable kit supplied as standard
Energy Saving Inverter Technology
Heat Pump for efficient heating
Ultra-Quiet Operation
Digital White Led temperature and function display
24 Hour Timer
Self-diagnostic function
Sleep Mode
Auto Restart
Technical Specification:
Cooling capacity: 3.5 kW
Cooling: 2500 - 14000 BTU
Heating capacity: 2.5 kW
Heating: 2500 - 16000 BTU
SCOP: 4.0
SEER: 6.4
Power Supply: 220-240V~ 50Hz, 1Ph
5 years warranty**
SEE THE FULL SPEC SHEET HERE
Dimensions & Weight:
W x D x H: 802 x 189 x 297mm (Indoor)
W x D x H: 810 x 310 x 558mm (Outdoor)
Weight: 8.1Kg (Indoor)
Weight: 30Kg (Outdoor)
How to Install
Our units are designed to reduce the installation time. The indoor and outdoor units are pre-gased and sealed and they come with a pre-flared pipekit enabling the qualified fitter to easily install them. The indoor unit should be fitted to the wall using mounting plate supplied in the box. The condenser should be fixed on the ground or wall mounted on the outside of the wall with the optional wall-mounting bracket. The unit is supplied with a 5 metre copper pipe that will reduce the need to purchase additional parts. It is also supplied with electrical cable. Please ensure the qualified fitter reads the user manual in full before installing.
*GMCC is one of the largest manufacturers of compressors in the world and they have a strategic partnership with Toshiba being used as RD facility and manufacturing plant by Toshiba. GMCC compressors are using latest technology and they go through strict testing.
**These units contain a gas governed by F-Gas regulations. The gas must be handled by qualified F-Gas personnel. 2 year warranty is subject to commissioning by qualified F-Gas engineers. 5 years extended parts warranty is subject to annual service.
What is a BTU?
1 BTU is the amount of heat required to raise the temperature of one pound of liquid water by one degree from 60° to 61° Fahrenheit at a constant pressure of one atmosphere. As a general rule we advise you to buy an Air Conditioner with a minimum 3,000BTUs as this is the minimum required to cool a small room (10sq/m) on a hot day. Medium rooms (24sq/m) need around 10,000BTUs and larger rooms and office spaces (36sq/m) require around 15,000BTUs.


High
Quality
Manufactured in the same factories as the leading brands.

Great
Value
The UK's lowest prices with no compromise on quality.

Design and Technology
electriQ design high quality products using the latest techology.

Hundreds of Products
An extensive range of products from large appliances to gadgets.