Product Information

This is a graded product. A2 products may have minor visible dents & scuffs. All products are tested and are in good working order.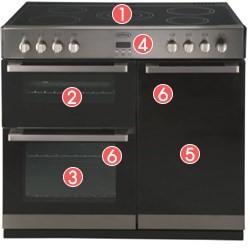 Ceramic hob
Easy to clean Ceramic glass hotplate, the hob has 5 elements including 1 dual zone.
Dual Circuit Variable Grill
Dual circuit variable electric grills let you adjust the grilling power to suit, but with faster pre-heat times and the precision of a temperature dial.
Fanned electric oven
An even temperature is achieved through the oven as the air is circulated by an integral fan, making it perfect for batch baking.
Fanned defrost function
Defrost your food in half the time and more hygienically using the fan defrost function which circulates room temperature air around the food.
Fully programmable clock and timer
A 24-hour digital clock that you can use to programme the bottom left fan oven to come on and go off so your dinner can be ready when you get back from work.
Large capacity tall oven
Belling offer the largest tall oven available on a 90cm range cooker, so you can enjoy multi-level cooking options within a huge 91 litre capacity oven. Perfect for batch baking.
Oven light
Keep an eye on your cooking using the light in the ovens.
Easy clean enamel
Wipe away spills easily with our specially designed enamel which helps prevent food from sticking on to the surface.
AA energy rated
Both ovens are A energy rated. The energy rating of an oven tells you how efficient it is, with A rating being the most efficient - helping you save on your electricity bills.
Manufacturer: Belling
Colour: Stainless Steel
Key Features
Ceramic Hob with 5 elements
Main fan oven
Tall fanned electric second oven
Separate variable electric grill in top cavity
Programmable main oven
Easy clean enamel
Touch control LED clock & programmer
A Guide to Fanned Ovens
Find out the benefits of fanned ovens, and unlock the potential.
A Fully Programmable Timer...
A useful guide on how to use the timer. Make cooking so much simpler - and save yourself time.
Belling's Tall Range Oven
This Range Cooker includes THE largest domestic cavity oven on the marketing, with 91 litre capacity. Find out more with this short video.
Open Door Grilling
Open door grilling on a conventional grill allows the air to circulate; giving you the best results every time.