Product Information
This is a graded product. A2 products have minor visible dents & scuffs. All products are tested and are in good working order.
GRADE A2
QUALITY BARBECUING ON THE GO
PERFECT FOR CAMPING, PICNICS & FESTIVALS
COOK 6 BURGERS & 18 SAUSAGES AT ONCE
VERSATILE COOKING WITH GRID & COOKING PLATE
THERMOMETER TAKES THE GUESSWORK OUT OF COOKING
EASY TO USE SINGLE GAS BURNER, PUSH BUTTON IGNITION
NO BIGGER THAN A SMALL SUITCASE, WEIGHS JUST 10KG
FOLDABLE, RELIABLE BARBECUING
Hassle free, reliable and easy to use barbecuing. The iQ Portable Barbecue is lightweight at just 10kg, fully foldable and packed with features to deliver an easy cooking experience with quality results. You'll wonder why you ever bothered with disposables or carted around a larger model.
This neat little barbecue is the ideal appliance for camping, picnics, travelling and festivals. Grill, saute or fry thanks to the versatile split cooking space. Cook up a feast wherever you are for you, your family and friends to enjoy.


COMPACT, LIGHT & EASY TO STORE
The iQ Portable barbecue, designed to travel. Whether you're camping, travelling, going to a festival or a picnic this compact barbecue takes up little space in your car boot or caravan. No bigger than a small suitcase, measuring in at 29.6 x 67.9 x 46cm when folded. With a secure lid latch and a fully foldable design you can rest assured this little barbecue will travel safely.
VERSATILE COOKING
Just because its small doesn't mean it delivers compromised cooking results. Equipped with a spacious cooking area measuring 47.6 x 36.7 cm, made up of a cast iron cooking grid and cooking plate. The barbecue enables you to cook a variety of foods when out and about with this practical cooking space split. Grill meaty burgers and sizzling sausages on the grid whilst caramelising onions or even frying eggs on the cooking plate.
EASY TO USE
Gas powered there's no need to cart around a bag of charcoal or mess around with its unreliable heat distribution. This barbecue simply and easily starts with single shot push button ignition and is equipped with a flame tamer for safer cooking.
An integrated thermometer takes the guesswork out of cooking, giving you more control. Be aware of when the barbecue has reached optimum cooking temperature and when it's prime and ready for specific foods.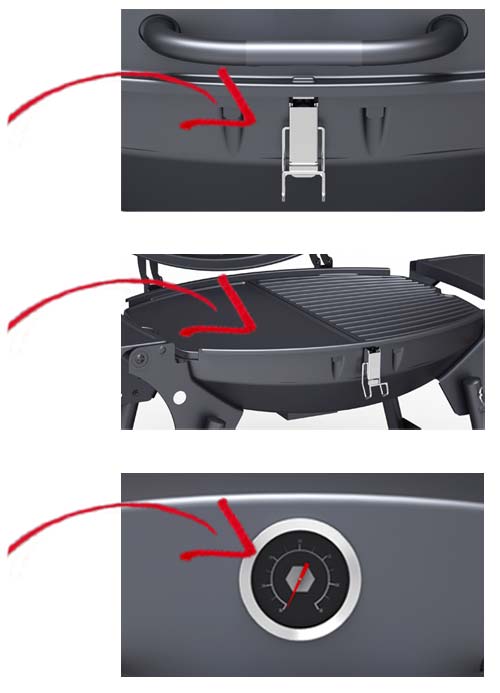 The pack includes three utensils (fork, spatula and tongs) and a PVC barbecue cover, ideal for storing during the colder months. Also included with the barbecue is the hose and regulator required to connect up with a gas supply.
A gas cylinder is not included with the barbecue, this needs to be purchased separately. The barbecue is compatible with gas cylinders between 11 and 15kg and is only suitable for LPG or Propane Gas fixture only. To keep your barbecue in tip top condition we would advise the use of the included cover and to store the barbecue in a dry storage space. Remeber to allow the barbecue to cool down before packing away for storage or transit.
Dimensions: H47.9 x W103.4 x D46 cm
Folded Dimensions: H29.6 x W67.9 x D46 cm
Cooking Space: W47.6 x D36.7 cm
Features:
Impressive, quality, gas barbecuing on the go
Portable, light weight design, ideal for camping, travelling, picnics & festivals
Spacious cooking, cook 6 burgers & 18 sausages in one go
Free accessory pack includes BBQ cover and utensil set
Small, compact, easy store design with hood latch for secure traveling
Integrated thermometer takes the guesswork out of cooking
Versatile cooking surfaces, includes cast iron grid & cooking plate
Easy to use single shot piezo ignition
1 Gas burner with flame tamer for safe cooking
Practical folding side shelves, ideal for utensils & plates
Hose and regulator included
Total heat input: 4.2 kW
Gas pressure: 37 mbar
Compatible with gas cylinders between 11 & 15 kg
Gas not included, LPG or propane gas required