Product Information
Grade A2 - Average condition with visible light scuffs or dents

1-year guarantee
Enjoy the peace of mind that your product is covered with a guarantee on both parts and labour.

Fully working
Our expert engineers rigorously test and check every product to ensure everything functions as it should.

What's included
All accessories are included unless otherwise stated in the description below.

Limited stock
Our refurbished products sell out quickly, so be quick and get a fantastic product at a fraction of the new price.
This is a graded product. A2 products have minor visible dents & scuffs. All products are tested and are in good working order.
GRADE A2
The left and right-hand side panels are bent and dented slightly. Please see images.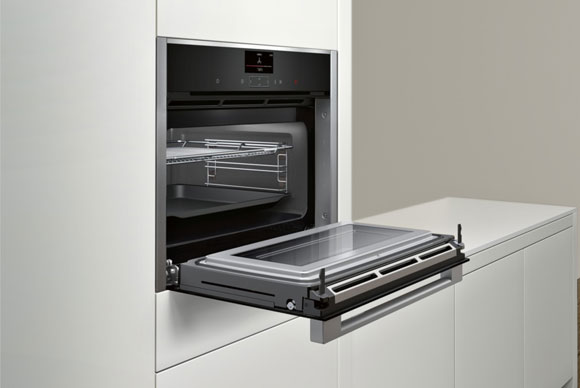 Multi-Functional
Get the best of both worlds with convenient microwave functions and compact oven cooking all in one place. A stylish integrated design blends seamlessly with your kitchen décor. Featuring a TFT colour display, CircoTherm technology, catalytic lining for easy cleaning and much more, this microwave oven is the perfect cooking companion.
Simple To Use
The ShiftControl panel makes navigating through menus easier than ever! A 4.1", high-resolution TFT colour display allows you to select cooking programs, automatic cook functions and timers with ease.
14 automatic cooking and defrost programmes make life in the kitchen easier than ever. Simply enter the weight of your food or select a programme from the menu and let this wonderful microwave oven do all the work for you.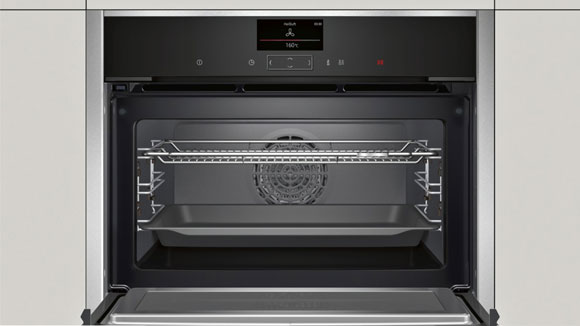 Easy Cleaning
This microwave oven is incredibly easy to clean; it features an EcoClean lining, a catalytic lining that absorbs fat and grease from the inside of the oven allowing you to quickly and easily wipe it clean after cooking. Base clean keeps the bottom of your oven clean by softening grease and debris with hot water; simply select the program and once it's done, wipe the base clean.
Innowave Technology
Enjoy more consistent, precise cooking with Innowave technology. Cook food faster and more evenly, no matter what you're cooking; this oven is extremely energy efficient whilst still offering incredible performance and convenient cooking at the touch of a button.
Programmes/functions
Rapid heat
Compact oven with microwave with 12 heating methods:
4D Hot air, CircoTherm® Eco, Top/bottom heat, Conventional heat eco, Hot air grilling, Full surface grill, Centre surface grill, CircoTherm® intensive , Bottom heat, Low temperature cooking, Dough proving, Plate warming
Additional heating methods with microwave: Microwave, Microwave combination cooking
Additional functions:
Steam cooking function
Special features
EcoClean Direct : back panel, side liners, ceiling
EcoClean program, BaseClean program
Number of automatic programmes: 14 PC
InnoWave technology for more even cooking results
Stainless-steel fan
4.1" TFT colour and graphics display with ShiftControl
Automatic safety switch off, Start button
Drop down door, SoftClose, soft opening
Features
Temperature proposal
Actual temperature display
Heating up indicator
automatic programmes
Sabbath setting
Permanent control panel lock
Automatic safety switch off
Residual heat indicator
Start button
Door contact switch
Microwave top door
Supporting systems: Setting recommendations, Programs
Temperature range 30 °C - 300 °C
Max. Power: 1000 W; 5 Microwave power settings (90 W,180 W,360 W,600 W,1000 W) with Inverter (MW)
LED light
Cooling fan
Info button
Design
Illuminated ShiftControl
Bar handle
Cavity inner surface: Enamel anthracite
Silver display EasyClock
Standard accessories
Pull out system: Not available
Pyrolitic proof trayholder and baking tray
Optional accessories
1 x combination grid, 1 x universal pan
Performance/technical information
45 litre
Length of mains cable: 120 cm
Total connected load electric: 3.65 KW
Appliance dimension (hxwxd): 455 mm x 596 mm x 548 mm
Niche dimension (hxwxd): 560 mm - 568 mm x 450 mm - 455 mm x 550 mm
Also includes Sabbath Mode - This allows you to adapt your appliance in accordance with religious beliefs. Click here to view all appliances with Sabbath Mode

What's In The Box?

Includes all standard interior fittings.