Product Information

This is a graded product. A2 products have minor visible dents & scuffs. All products are tested and are in good working order.
GRADE A2
Dimensions: H191 x W59.5 x D59.5 cm
Fridge capacity: 94 L
Freezer capacity: 166 L
Spacious and sleek the Beko CFD6914APS offers ample storage for fresh and frozen items. With 260 litres of useable storage space this fridge freezer is ideal for families.
The Beko CFD6914APS has been rated 'A' in energy efficiency, making it cheap and efficient to run. Reaching a maximum noise level of 42dB this fridge freezer is very quiet and unobtrusive, you won't even notice it chilling in the background.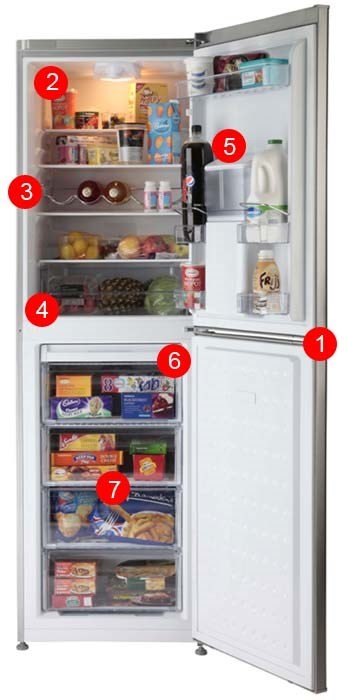 1. Simple convenience with reversible doors
With the Beko CFD6914APS you are able to fit both your fridge and freezer doors on either the right or left, giving you more freedom when it comes to the design of your kitchen.
2. Plenty of adjustable storage to suit your shopping
This fridge freezer has plenty to offer when it comes to storage and keeping your shopping organised. There are three full shelves and one half depth shelf, this shelf comes in handy for positioning at the rear of the fridge, still leaving you space to stand taller items in front of this shelf.
3. Securely chill your favourite bottles
A metal wine rack is included with this fridge. Stretching the full width of the fridge you can perfectly chill five bottles at a time.
4. Lock in freshness and flavour with the salad crisper
The bottom of the fridge holds the salad crisper, the perfect place for your fruit and veg, locking in freshness and flavour, ideal for prolonging your fresh produces life span and maintaining all its goodness.
5. Easy and super convenient water dispenser
This fridge features a water dispenser which is filled from the inside and accessed from the outside, perfectly chilling your water ready to drink. This is a great feature for encouraging your family to drink more water.
6. Ice ice
The top of the freezer has a super slim drawer which is ideal for ice cube trays and creating your own ice bank. Perfect for part preparation and hot summer days.
7. Four Star freezer for supreme freezing
Thanks to a four star freezer you are able to freeze fresh food and store for up to three to twelve months, lower starred freezers do not do this as effectively and may not lock in all the nutrients and flavours as well.
With frost free technology you will never need to waste time and effort defrosting your freezer again. No longer will your freezer items have a layer of ice and your fridge items will remain frost free too.
Features:
A+ Energy rating
Energy consumption: 295 kWh
Freestanding
Reversible door
Operates in cold ambient temperatures down to -15°C (e.g. Suitable for garages)
Anti-bacterial protection
Frost free
3 Glass shelves
1 Half depth shelf
Salad crisper
Full width wine rack (5 bottles)
4 star freezer with 4 drawers
Ice bank slim line tray
Water dispenser
Noise level: 42 dB(A)
---