Product Information

This is a graded product. A2 products have minor visible dents & scuffs. All products are tested and are in good working order.
GRADE A2

MULTI-FUNCTIONAL COOKING
With its classic aesthetic and generous 77 litre capacity, this all-in-one built-in Single oven by Smeg is sure to be a talking point in any kitchen. It offers a massive 12 different cooking functions including closed door grilling, upper and lower element heating and a range of fan assisted modes to speed up cooking and distribute an even temperature across all shelf positions.
EASY TO CLEAN
To help keep the interior oven clean and spotless, this model comes with a powerful pyrolytic self-cleaning programme that burns away any grease and food residue, so you can simply wipe the ash away with ease. The inner door glass can even be removed to provide a thorough more comprehensive clean. Plus, the oven exterior is also easy to maintain thanks to the anti-fingerprint Stainless Steel coating.
A GLASS ACT
The quadruple-glazed glass door is designed to contain the heat inside the oven and keep the exterior door surface cool to the touch. Plus, the innovative eclipse glass appears black when the oven is switched off, yet turns transparent switched on, for enhanced visibility when checking on your food.
ADDED CONVENIENCE
Time your meal to perfection and avoid overcooking your food with the integrated electronic clock and programmer. Alternatively, you can remove the guess work altogether and choose from over 50 auto programmes to help you perfect any recipe with ease. Some of the functions include: defrost by time/weight, warm dishes, rising and a Sabbath setting.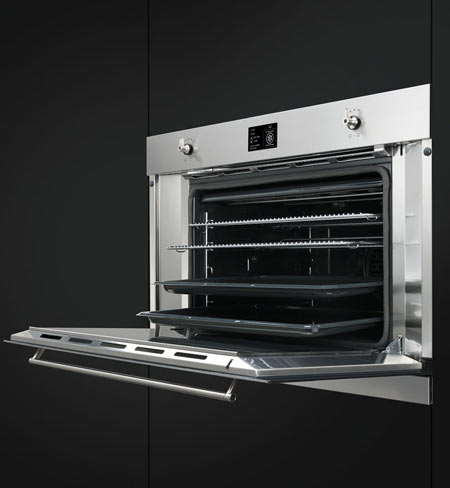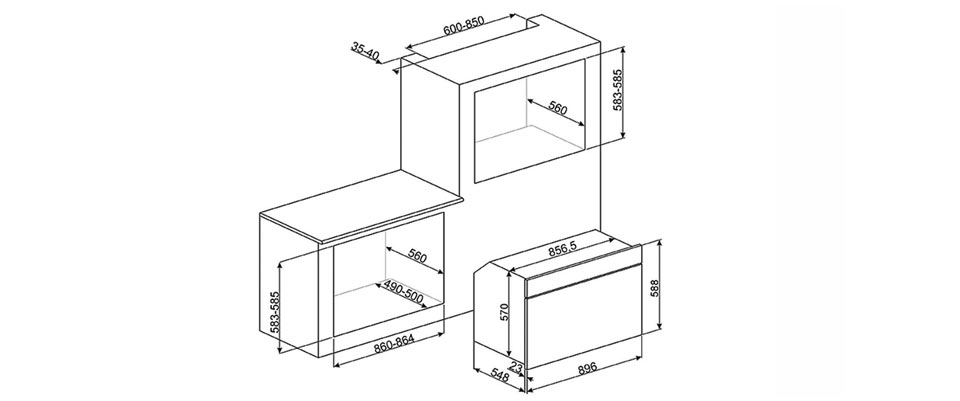 Lower Oven Features (Main Oven)
12 functions including circulaire with upper and lower element
Capacity to store 10 personal recipes
Automatic programmes: 50
Other functions: defrost by time, defrost by weight, warm dishes, rising, Sabbath
Other option: smart cooking system
Extra wide oven
Easy guide display
Nero-vista - an innovative black glass which appears black when the oven is off, yet transparent when the oven is turned on, offering enhanced visibility into the oven cavity
Air cooling system
Closed door grilling
Easy clean enamel interior
Metal side supports
3 Cooking levels
Pyrolytic cleaning
Quadruple glazed removable door
Energy saving option - ecologic
Electronic controls with child lock
2 x 40W halogen lights
Integrated utility drawer beneath the oven
Oven capacity: gross - 90 litres, net - 77 litres
Power
Nominal power: 3.10 kW
Conventional: 1.29 kW/h
Forced air convection: 1.05 kW/h
13 Amp power supply required
Included Accessories
2 x Telescopic guides (total extraction)
1 x Telescopic guides (partial extraction)
2 x Roasting/Gill pans (20mm deep)
1 x Chrome shelf
1 x Grill mesh
Also includes Sabbath Mode - This allows you to adapt your appliance in accordance with religious beliefs. Click here to view all appliances with Sabbath Mode