Product Information

This is a graded product. A1 products are "as new" but have been box opened. All A1 products will be fully bubble-wrapped for transportation.
GRADE A1

COOLING TECHNOLOGY
The beauty of the Storm 100i air cooler is that it generates a steady stream of cold air through evaporation, which unlike conventional air conditioners doesn't require the need for a window vent kit or any permanent installation. It works by pulling warm air into the back of the machine through the iPure 6 stage filtration system. The air is then passed through an enhanced honeycomb filter which is wet with water from the tank. The water evaporates and is pushed out of the front of the machine by a fan to create a soothing cool breeze. This also conditions the air with more moisture for added comfort.
EASY TO USE
The Storm 100i is incredibly easy to use. All you have to do is fill the large 100 litre water tank with water, or if you want an even cooler breeze you can fill the tank with ice. Once you have filled the tank all you have to do is turn the machine on, choose from the 7 fan speeds you want the machine to run using and the cooler will deliver an even level of cooling.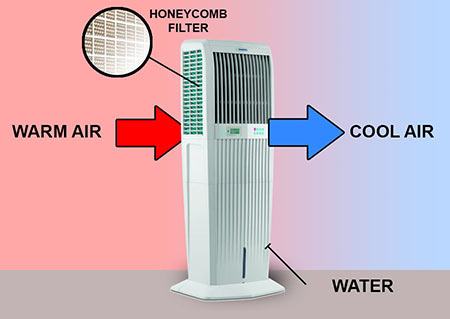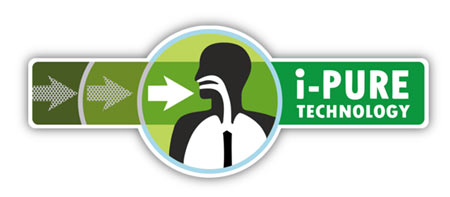 MULTI-STAGE AIR PURIFICATION
As well as combating dry air that can have a negative effect on those with allergies, this air cooler features an advanced 6 stage air purification system to ensure you breathe clean, healthy air regardless of the weather. The 6 filters are designed to remove microscopic allergens such as dust mites, pollen, mold and bacteria that may cause people sleeping problems and breathing difficulties.

ANTIBACTERIAL FILTER
Destroys harmful bacteria and micro-organisms

DUST FILTER
Removes airborne pollen, pet dander, mould

WATER FILTER
Removes impurities in the water from circulating through the system

CARBON FILTER
Eliminates unpleasant odours like cigarette smoke

PM2.5 WASH FILTER
Removes impurities in the water from passing through the honeycomb pads.

TIO2 CATALYTIC FILTER:
Removes any harmful VOCs.
Why is this cooler right for you?
For rooms up to 142 m3/ 5000 ft3
Large 100 ltr. tank capacity
Consumes 270 watts* only
Dura-pump technology
Quiet cooling
3-side high efficiency honeycomb cooling pads
This air cooler also features:
i-Pure technology
System restore function
Multi directional wheels for mobility
Cool flow dispenser
Full function remote with on/off timer
SMPS technology
Water tank full indicator
Technical information:
Water Tank 100 litres
270 watts max power
Dimensions - 63.5(L)x50(W)x162(H)cm
Weight - 18kgs
The Techie Stuff
Storm 100i is an evaporative air cooler cooling the air by means of evaporation. When water evaporates into the air, the result is a mixture of air and water molecules. This chemical change requires heat which is taken from the water molecules, resulting in a spot cooling effect, the temperature drop. The air is passed through a special honeycomb cooling pad which expands the evaporation surface and improves the cooling effect while doubling as an air filter. The evaporative coolers must be used in rooms or spaces with good ventilation otherwise the room will get saturated with humidity and the effect of cooling will stop.