Product Information
Grade A2 - Average condition with visible light scuffs or dents

1-year guarantee
Enjoy the peace of mind that your product is covered with a guarantee on both parts and labour.

Fully working
Our expert engineers rigorously test and check every product to ensure everything functions as it should.

What's included
All accessories are included unless otherwise stated in the description below.

Limited stock
Our refurbished products sell out quickly, so be quick and get a fantastic product at a fraction of the new price.
This is a graded product. A2 products have minor visible dents & scuffs. All products are tested and are in good working order.
GRADE A2
The CDA ECH101SS chimney cooker hood is ideal for larger kitchens, with a width of 100cm it can efficiently cover hobs up to 100cm wide. The stylish stainless steel design is intended to be wall mounted and can effectively extract or recirculate steam and odours within the kitchen.
VERSATILE DESIGN
With a classic chimney design in versatile stainless steel this CDA cooker hood suits both contemporary and traditional styled kitchens. The neutral design makes it easy to coordinate with all your existing appliances.
FUNCTIONALITY
The cooker hood features easy to use push button controls on the front of the hood for easy access. There are three speed settings to choose from, increase the speed the steamier the kitchen space becomes.
There are two halogen lights at your disposal with this hood with a stylish glass light diffuser. The lights give good illumination to your cooking space, ideal for keeping an eye on what's cooking as well as adding a nice ambiance to your kitchen space.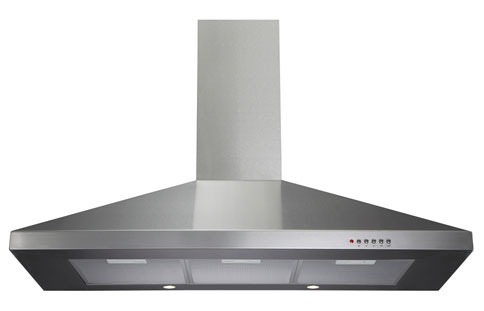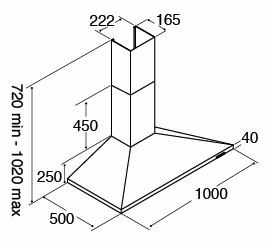 EFFECTIVE STEAM AND ODOUR ELIMINATION
The CDA ECH101SS chimney cooker hood can reach a maximum extraction rate of 427m3/hr, making it a great choice for larger kitchen spaces. Reaching a noise level of only 64dB when on full power the hood isn't too obtrusive, ideal if you have an open living space or also dine within your kitchen.
• First extraction rate: 265m3/hr
• Second extraction rate: 323m3/hr
• Third extraction rate: 427m3/hr
EXTRACT OR RECIRCULATE
This chimney hood can be set up to either extract or recirculate the air within your kitchen. Extraction delivers more effective results however extracting isn't always possible depending on your living situation.
When extracting a ducting kit will need to be purchased separately. The ducting diameter of this hood is 150mm. If recirculating the air carbon filters will need to be purchased separately, the carbon filters work to eliminate odours when recirculating.
INSTALLATION
The CDA ECH101SS chimney hood is designed to be fixed to the wall, covering hobs up to 100cm wide. When fitting above a gas hob a height of 70cm is required and 60cm for an electric hob.
Dimensions: H72 x W100 x D50 cm
Features:
Effectively extract or recirculate steam & odours in the kitchen
Stylish stainless steel wall mount design
Easy to use push button controls
3 Speed settings, cater the speed to suit your dish
Included removable aluminium grease filter
Powerful twin fan motor
Stylish glass light diffuser
2 x 50W Halogen lights for clear cooking visibility
Extraction rate: 427m3/hr
Noise level: 64dBA
Power supply: 3A
Motor input: 140W
Ducting outlet diameter: 150mm
If extracting a ducting kit needs to be purchased separately
If recirculating a carbon filter needs to be purchased separately
Required height over gas hob: 700mm
Required height over electric hob: 600mm
Energy rating: E

What's In The Box?

Includes all standard paperwork.