Product Information
Grade A1 - Good condition with hard to spot minor blemishes

1-year guarantee
Enjoy the peace of mind that your product is covered with a guarantee on both parts and labour.

Fully working
Our expert engineers rigorously test and check every product to ensure everything functions as it should.

What's included
All accessories are included unless otherwise stated in the description below.

Limited stock
Our refurbished products sell out quickly, so be quick and get a fantastic product at a fraction of the new price.
This is a graded product. A1 products are "as new" but have been box opened. All A1 products will be fully bubble-wrapped for transportation.
GRADE A1
The CDA EIN60SI integrated cooker hood is ideal for those who want a cooker hood that does what it says on the tin and isn't obtrusive to their kitchen design. Ideal for extracting cooking odours and steam from more compact kitchens, this CDA is subtle in design and efficient in extracting.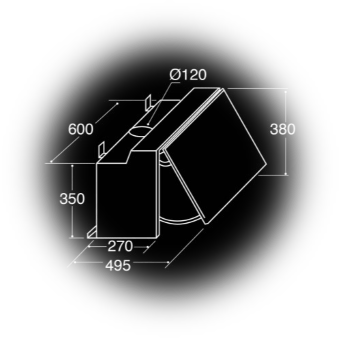 How will this look in my kitchen?
This cooker hood is designed to fit into a kitchen cabinet above the hob. The front is made to have a kitchen cabinet door that matches your own fixed to the front, so when the hood is not in use it fully integrates into the kitchen unit for a streamlined look.
Please measure the dimensions of the cooker hood carefully against your cabinet space to ensure it will fit:
Dimensions: (W) 600mm x (H) 380mm x (Depth when closed) 270mm (Depth when in use) 495mm
Suitable for ducted or recirculated extraction
Not every kitchen can have ducting out installation for a cooker hood, so this chimney extractor can be installed to recirculate or duct out, so you focus more on what cooker hood you want rather than be restricted to which one has the right extraction method.
3 speed extraction
The maximum extraction rate of this integrated cooker hood is 280 m³/hr which is ideal for more compact kitchens. This extraction rate can be adjusted via the slider control that has 3 speed settings for you to choose between, so you can tailor the speed to suit what you're cooking and the level of odour and steam.
Light your hob up
This integrated cooker hood comes with a halogen light to make it easier to see the hob whilst you're cooking. The glass light diffuser spreads the light out for a full coverage of the hob which is handy when you're using all burners.
The halogen bulb is energy-efficiency and longer-lasting – ideal for saving money on the energy bills!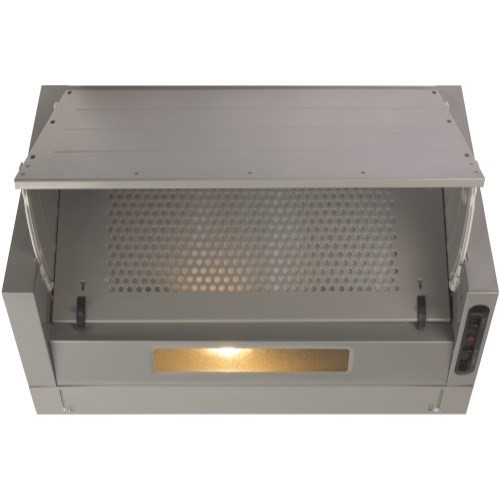 Technical Specifications
Required height over gas hob: 700mm
Required height over electric hob: 600mm
Noise level: 62 dBA
Acrylic grease filter
Extraction rate: 202 m³/hr
Rated electrical power: 160 W
Power supply required: 3 amp
Integrated cooker hood
280 m³/hr extraction rate
3 speed settings
Suitable for ducted or recirculated extraction
28W halogen bulb

What's In The Box?

Includes all standard paperwork.