Product Information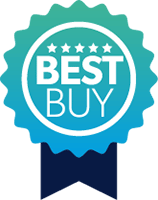 Best Buy
By collaborating with some of the world's greatest brands, we've created specialist Best Buy collections across our most popular product ranges. We will keep them updated, to bring you the best choice, the best price and the best products. And that's a promise.
This is a graded product. A1 products are "as new" but have been box opened. All A1 products will be fully bubble-wrapped for transportation.
GRADE A1
What stands out
An induction hob and extractor fan rolled into one
Autocapture adjusts the fan based on the zones in use
Pot detector applies heat only to the base of the pan
Stop&Go quickly turns off the power if you have to run
Four cooking zones give you plenty of cooking space
The details
NikolaTesla Prime is the Elica induction hob with integrated aspiration system made unique by the search for balanced aesthetics and attention to the functional details. In the centre of the glass hob with four independent induction zones sits the elegant cast-iron grille, which gives the product a professional look and which conceals the powerful aspirating heart.
In NikolaTesla Prime, by activating the AUTOCAPTURE function, the aspiration system automatically adjusts based on the number of cooking zones being used and their power setting. In the front of the hob is a single control panel that controls both the induction zones and the aspirating system with a simple touch of your finger. In standby mode, it becomes completely invisible, showing the hob in all its sleekness.
The new aesthetics make cleaning simplicity itself, both for the glass hob and the cast iron grille that can be conveniently washed in a dishwasher. By removing it, you can extract the filters to clean and maintain them.
Essential info
Dimensions: H21.1 x W83 x D51.5 cm
Operation: Recirculation
Finish: Black Glass + Cast Iron
Cooking zones: 4
Controls: Touch control
Seven functions: Power Limitation, Timer, Egg Timer, Child Lock & Safe Activation, Residual Heat, Indicator, Automatic Heat Up, Safety Shut Down, Fan speeds: 3 speeds + 2 boost levels
Max. noise level: 71 db(A)
Energy rating: A