Product Information
The CDA conventional cooker hood will efficiently remove grease, moisture and cooking odours from your kitchen. Perfect for smaller kitchens, this hood can be set to extract or recirculate your air, as well as set to different speeds which makes it suitable for different types of kitchens.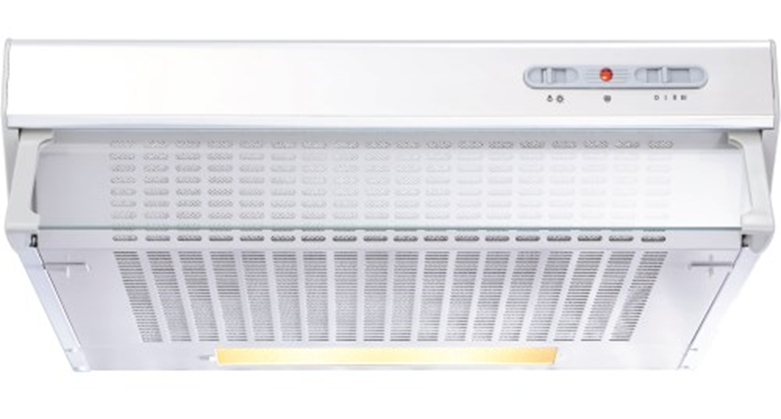 Extraction or recirculation
The CDA cooker hood can be installed to recirculate or duct out the air during cooking time, depending on what type of kitchen you have.
If you choose to re-circulate the air, you will need the CDA charcoal filter and if you're ducting out you'll need a ducting kit with a 125mm diameter.
Design
Measuring 60cm, this cooker hood is fitted onto your wall for a subtle and unobtrusive appearance.
With a clean white design, the hood also comes with a clear glass visor that not only looks good, but helps to direct odours and steam towards the hood, which results in a more efficient extraction rate and an appliance that is both practical and stylish.
Power
With an extraction rate of 189 cubic meters per hour, this conventional cooker hood is ideal for smaller kitchens up to 18 cubic meters.
The extraction power can be adjusted by push button control. With 3 speed settings available, finding the best extraction speed for individual dishes will be much easier.
Not sure what the cubic metre of your kitchen is? Check out our Cooker Hoods Buying Guide to find the extraction rate you need for your kitchen.
Acrylic Grease filter
To optimise the performance of the extractor, this cooker hood has an acrylic grease filter. The filter removes grease and odours from the air whilst you are cooking so that your kitchen remains a fresh and clean environment. These filters should be changed every 3 to 4 months to ensure your hood is performing at its best.
Light
When you place a cooker hood on the wall, it can cast a shadow over the hob, making it more difficult to see what you're doing. To solve this problem, the CDA cooker hood comes with a 28 watt halogen strip light built into its roof that will shine down onto your hob making it much easier to cook.
CDA guarantee their appliances for 5 years on the parts and 2 years on the labour. Please ensure you register your appliance to receive this.
Conventional 60cm cooker hood
151 cubic metres per hour extraction rate – perfect for smaller kitchens
Suitable for extraction or recirculation
3 speed settings on push button controls
Acrylic grease filters
65db noise level
1 x 28 W halogen light
Glass light diffuser