Product Information
The All-in-One Robot Cleaner
- Powerful suction vacuum
- Dry and wet floor mopping
- Sweeping side brushes
- UV light sterilises bacteria
- HEPA filter removes allergens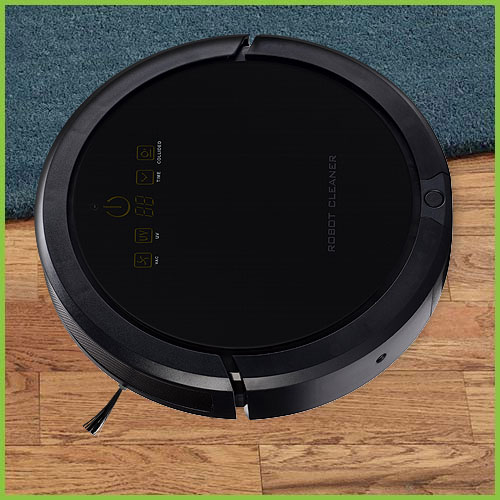 Sit back, relax, let the Robo vac do the hardwork
The electriQ robot vacuum takes away the chore of sweeping, vacuuming and even mopping, freeing up your time.
Don't lift a finger! With the included remote control you're able to control the robo vac's functions from the comfort of your sofa. With good traction on all common floor coverings theres not a room in the house the robo vac can't handle.
Cleaner, healthier,
living environment
Powerful, thorough, cleaning
The electriQ robo vac has a 5 stage cleaning process. UV light sterilises the floor, exterminating bacteria and mites, a HEPA air filter ensures a healthy living environment. Perfect for allergy sufferers and pet owners.
This robot vacuum is an all in one with powerful suction, side brush cleaning and wet mop cleaning, an option to suit all surfaces.
Wet mopping operates from a built-in reservoir with a quality finish from dry mop cleaning, keeping your home clean and safe.
Dirt detection senses dirtier areas of the flooring, spiral mode will kick in and spot clean those dirtier areas.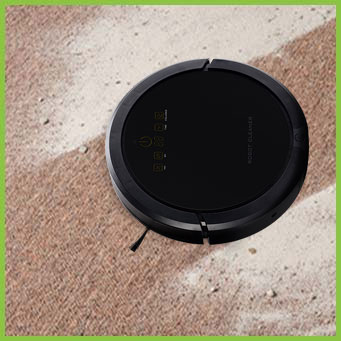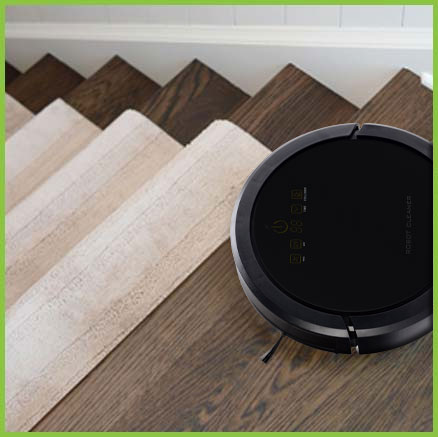 Smart, advanced, cleaning
Let the Robo vac roam your home, the vacuum has advanced algorithm cleaning using ultrasonic navigation. Equipped with obstacle navigation and anti-fall detection the robo vac won't collide with furniture or fall down steps.
If you have a specific area of the home you want the robot vacuum to clean a zone divider is included to keep the vacuum in specific areas.
With an operating time of up to 2.5 hours and a dustbin capacity of 0.6L there's time and space for several cleaning cycles. When the robo vac is low on battery it will auto-return to its self-charging dock.

electriQ eiQ-R900MW Robot vacuum with WIFI Smart App control
- Operate using your smartphone
- Schedule your clean any time from anywhere via WIFI
- Convenient app to be used with iOS or Android
- Save time setting up scheduling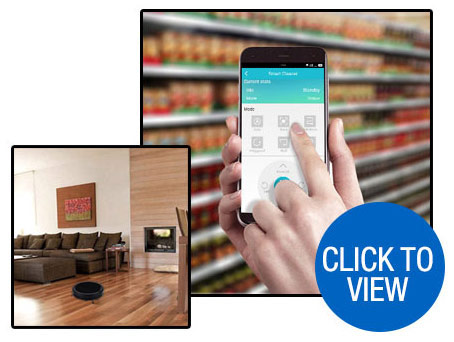 The best bits:
5 stage cleaning process for a thorough clean with ultrasonic smart navigation
All-in-one vacuum with powerful suction, side-brush cleaning & wet mop
Extended cleaning time and battery life
Self-charging dock with auto-return when low on battery
7 days fully programmable cleaning schedule
Advanced cleaning algorithm using ultrasonic navigation
Obstacle detection and anti-fall detection to prevent collisions & falling down steps
Dirt detection senses dirtier areas and enables the spiral mode which spot cleans the dirty area
Can be used on tiles or hard floor for wet mopping using water in the attachable large reservoir first then is finished using the dry mop cleaning
Slim profile at only 7.9 cm can clean under most sofas and other hard to reach areas
Ultrasonic rechargeable zone divider included to keep the robot in specific areas
Remote control for ease of use
Full bin indicator and easy to empty dust bin container
Great Anti-Allergy / Pet robot with 2 stage filtration including a HEPA filter that removes allergens and and UV light that sterilises the floor, exterminating bacteria and mites
Tech Spec:
Dimensions: W33 x D33 x H7.9 cm
Weight: 2.5 kgs
Cleaning area diameter: 36 cm
Dustbin capacity: 0.6 L
Operating time: 90 min max
Charging time: 2.5 hrs