Product Information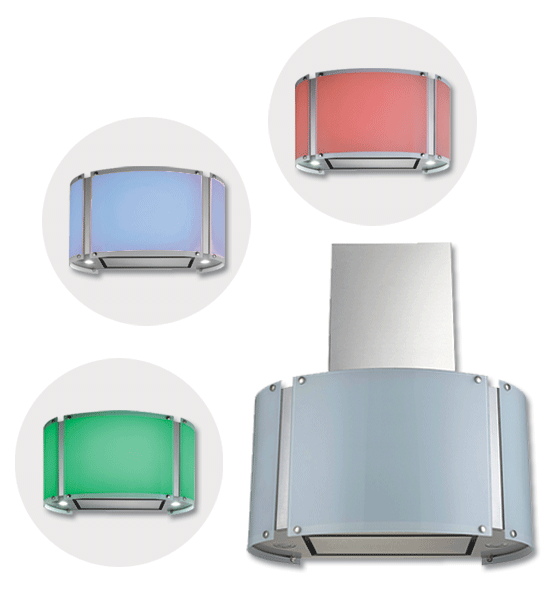 Colour Effects Oval Cooker Hood
- Colourful ambient lighting feature
- Unbranded, fitting perfectly within your kitchen
- Quality stainless steel & tempered glass
- Suited to vent or recirculate
- Effective extraction, eliminates cooking odours & vapours
- LED lighting for cooking visibility & ambience
- Extendable outlet hose, adaptor and grease filter included
STATE OF THE ART
An instant focal point, this state of the art oval cooker hood from electriQ is sure to impress all with its unique design and attractive features. A modern mix of quality stainless steel and frosted white tempered glass panels creates this unusual oval design which sits flush to the wall.
ILLUMINATING
This electriQ hood can be illuminated, if you choose, into a range of subtle mood-enhancing colour shades, which can also be set to alternate to create the perfect ambience to suit your mood or occasion.
FEATURE FULL DESIGN
As well as mood lighting this hood has standard LED lighting, to illuminate your cooking space for clear visibility. The lighting and also the three extractor speeds can all be controlled by simple electronic buttons underneath the canopy. Easily entertain and dine in your kitchen as this hood emits low noise, reaching 72db when set to maximum speed.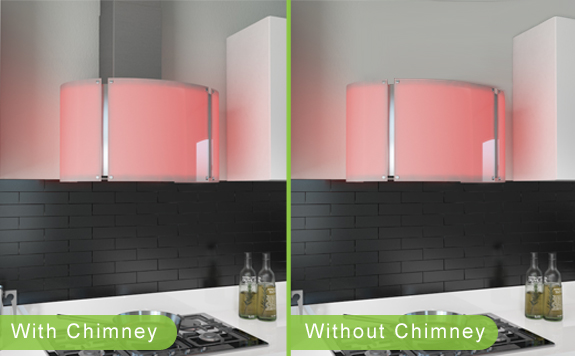 EFFICIENT FILTRATION
With this oval cooker hood you have the choice to extract or recirculate the air. Included with the hood is an optional chimney.
Fitted with an aluminium grease filter to effectively remove grease within the air. All electriQ cooker hoods have easy to clean, dishwasher safe grease filters already included. We would recommend that these are replaced annually.
If you are unable to vent the air out externally, the hood can be operated in recirculating air mode, using the optional carbon filter pack which will take away any odours. The carbon filter pack needs to be purchased separately.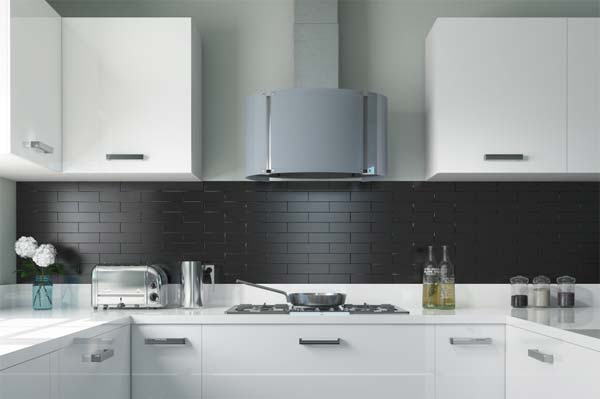 Dimensions: W680 x H375 x D470 mm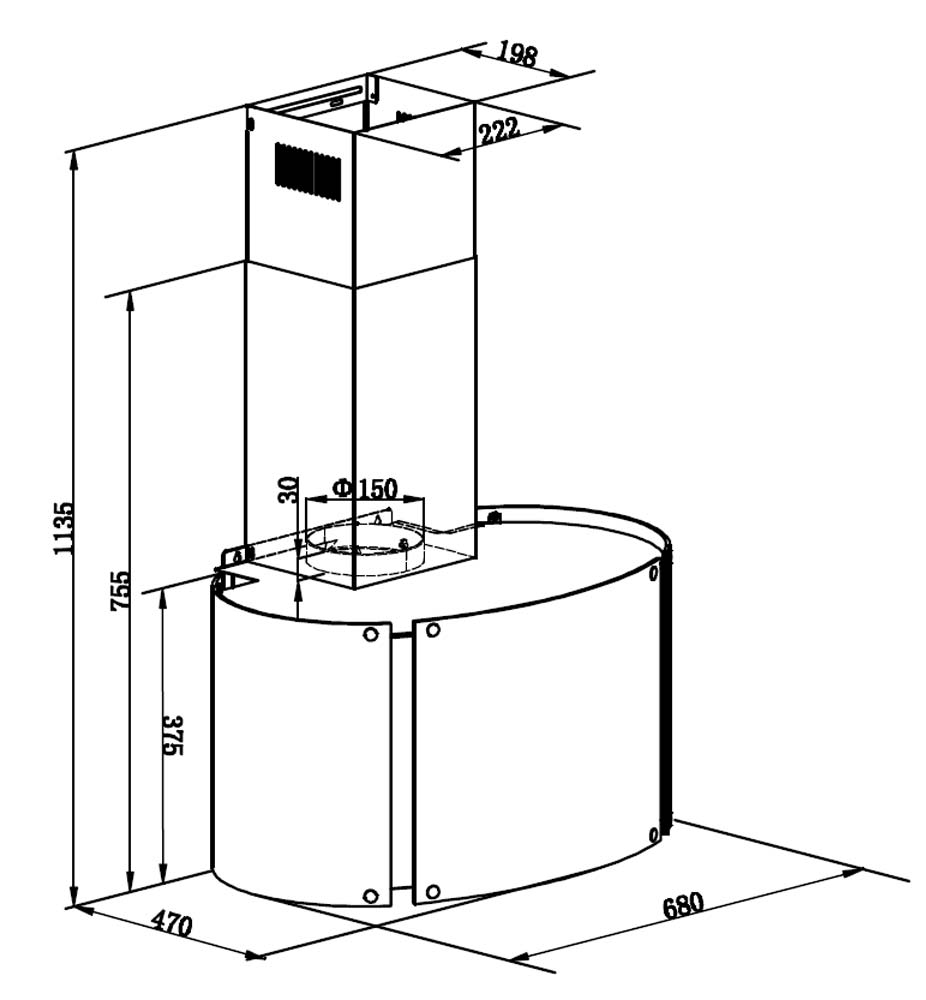 Whats in the box?
- Oval cooker hood
- Aluminium dishwasher safe grease filter
- Extendable 150mm air outlet hose & 150/120mm adaptor
- 2 LED lights
This electriQ gives you the option to extract or recirculate the air. If you are unsure which option you should go for here is a simple guide to both;
Extracting air
- Odours, grease, smoke & steam are extracted
- Air is extracted via ducting to the outside of your house
- This requires a vent through an outside wall
- This hood includes a 150mm flexible hose that extends to 2m
- Includes 120-150 adaptor for pre-existing 125mm ducting
Recirculating air
- Odours, grease & smoke are drawn through a series of filters
- The purified air is then released back in to the kitchen
- Method can be used in all kitchen types, eliminates ducting
- With this method you will need a carbon filter pack
- The carbon filter pack needs replacing every 3-6 months
Features:
Contemporary oval design
Quality stainless steel and tempered glass
Ambient lighting feature
Electronic control panel, 3 speeds
Unbranded, coordinating perfectly with your appliances
Efficient extraction rate 608m3/h
x2 LED lights, illuminates cooking space
Low noise operating at 73 dB
Air outlet 150mm with 120/150 adaptor
Optional extending chimney included
Included aluminium grease filter
Optional carbon filter pack available separately
Energy rating: B
Please note: This chimney hood is designed to be fixed to a wall.

Why choose us?
We've won awards for our products

We use the same factories as bigger brands

We offer hassle-free warranty

We have top notch customer service