Product Information
What makes it Boss?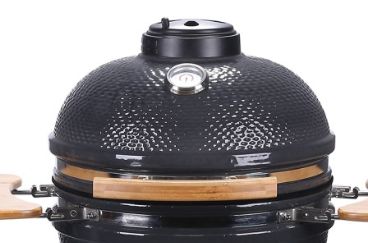 High-quality finish
Enjoy your Egg-style BBQ for years to come. And dine with complete peace of mind, knowing it will deliver delicious results every time.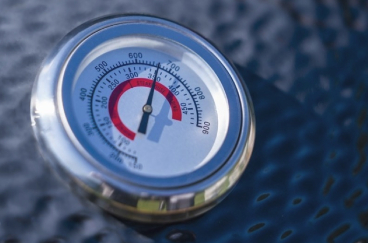 Faster cooking
Egg BBQs retain heat and reduce cooking times, whilst retaining moisture. The temperature gauge and vents help control the temperature, creating some delicious results.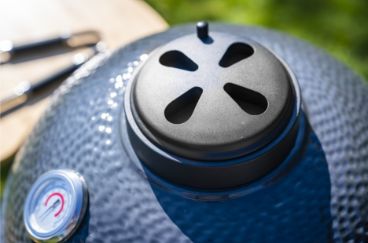 Smoke, grill or bake
The Egg is extremely versatile. You can smoke meats and fish, grill sausages, burgers, corn and kebabs, or even bake pizzas.
The features
The Egg Kamado Style Ceramic Charcoal Grill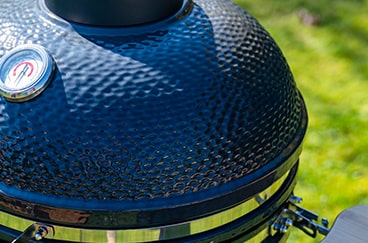 Ceramic body
Its unique ceramic body guarantees maximum insulation and heat retention. This enables you to cook more food using less fuel.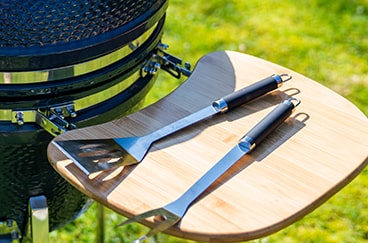 Bamboo shelves
Two beautifully crafted, solid bamboo shelves fold up to hold food, sauces and utensils while you cook. And fold down to save space when storing.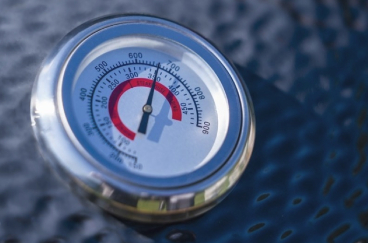 Temperature gauge
Cook your favourite foods to perfection with a bit of help from this built-in temperature gauge. That's right, it's time to forget burnt burgers.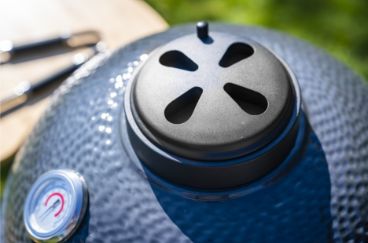 Vents
Easy-to-use vents at the top and bottom let you take complete control of the cooking temperature. The wider the gap, the hotter the grill gets.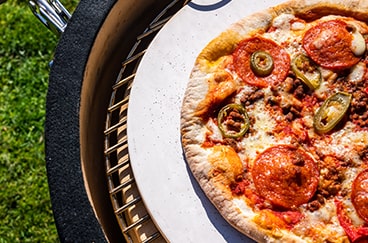 Free pizza stone
This Egg-style grill is so much more than a traditional BBQ. It features a handy pizza stone to bake your favourite pizzas on demand.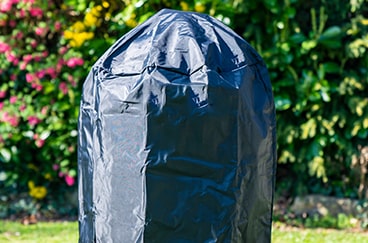 Cover included
Protect your BBQ all year round with this free, heavy-duty rain cover. It's easy to use and simple to secure.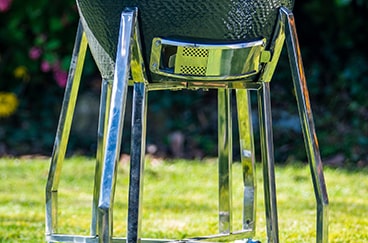 Heavy-duty stand
This Egg-style BBQ rests on a solid chrome trolley and features a padded base to prevent scratches from occurring.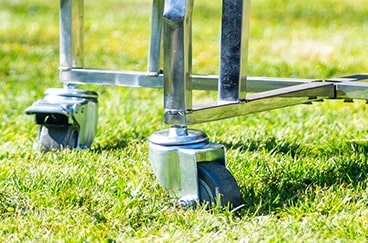 Castor wheels
Position your BBQ with ease, with these four wheels and two locking castors. Together, they'll keep your grill stable while cooking or storing.
The Egg 18"Cooking area
Main cooking space: 45cm (diameter). That's enough room to cook approximately:

10 Burgers

Don't just grill it. Boss it.
Forged from iron, steel and solid, British values, our BBQs deliver a finger-licking feast. We design high-quality grills, so you can serve up a sizzling experience your family and friends.
Tongs at the ready? Then step up to the plate, Boss.
What stands out
Designed to last with high quality materials and build
Cook all year round; rain won't dampen its performance
Perfect for smoking all kinds of meat, fish and veg
Add wood chips for that authentic smoked taste
Sturdy grey ceramic egg-style BBQ with bamboo shelves
Cheap to run; retains heat & reduces charcoal wastage
Cover included to protect your grill all year round
Just add coals and start cooking in just 15 minutes
Whats in the box
1 x Ceramic charcoal barbecue
1 x Layer chromed wire grill
1 x Pizza stone
1 x Heavy duty cover
1 x Manual
More info
Solid constructed premium 18" ceramic grill
Flexible bottom grill
Bamboo side shelves
Ceramic fire bowl and easy lift lid
Cast iron charcoal grate
Stainless steel top vent
Bottom vent
Built-in thermometer
2 locking castor wheels to keep your barbecue in position
Rain cover included
Self-assembly required: Yes, advisable to have 2 people install the ceramic body
Maximum temperature: 450°C
Slow cook / smoke: (8°C - 108°C / 180°F - 225°F)
Grill / roast / bake: (163°C - 191°C / 32°F - 375°F)
Sear: (260°C - 330°C / 500°F - 625°F)