Product Information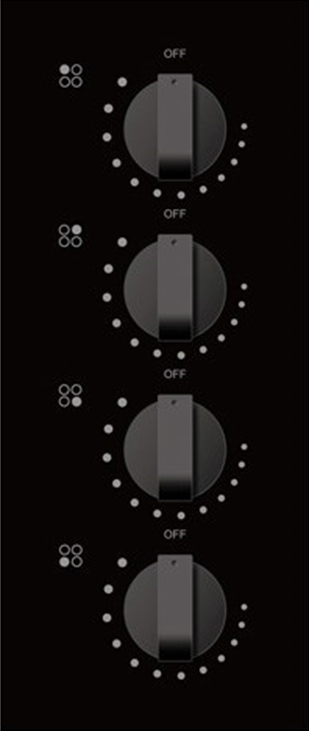 Flexible cooking
Zones: With 2 zone sizes, this electriQ hob gives you the option of using different sized pans for various dishes.
Powerful: The electriQ ceramic hob comes with 11-power settings for each cooking zone, so that you have an extremely precise control of the heat going to your cooking, as well as better control over whether food simmers or boils, so that nothing is over-cooked.
Dials:The combination of an electric fuelled appliance and traditional control dials means you get the efficiency of electric cooking, but the precision of dial controls with this electriQ hob.
Safety Features
After cooking is done, the hot hob indicator will light up to let you know if the hob is still too hot to touch before you go to clean it.
With the dial controls placed at the side, you reduce the risk of catching it with a pan and accidentally adjusting the temperature.
How will it look in my kitchen?
Unbranded and finished in black glass allows this ceramic hob to blend with your other kitchen appliances and will be a great addition to any kitchen. With unique dial controls and a spacious outlay, the design of this hob is eye-catching, easy to use, and effortless to care for.
Being a standard width for hobs makes this ElectrIQ appliance suitable for a lot of kitchens. To be sure, check the dimensions carefully before buying:
Hob Dimensions – the actual size of the hob:
(w) 590mm x (H) 55mm x (D) 520mm
Cut out size – these are the dimensions you will need to cut out of your kitchen counter to ensure your hob fits:
(H) 51mm x (W) 560mm x (D) 490mm
Please also remember to leave 50 mm of worktop counter space at all sides of the hob, giving all four sides 50mm of counter to rest on.
Quality with electriQ
This competitively priced electriQ hob is manufactured to the same standard as the leading brands, using premium materials and technology to give you quality performance without paying for the brand name.
Strong and durable ceramic glass surface to make your hob last longer!
11-stage power setting – For better control of temperature and speed of your cooking.
Dial controls – For precise and more controlled cooking.
Side control – To save you catching your sleeve or pan on them!
2 Zone sizes – For flexible cooking.
Residual heat indicator – To keep you aware of when the hob is too hot.