Product Information
Dimensions: W51 x D50 x H30.5 cm cm
Explore and discover a whole new way of cooking quickly and conveniently with this 25 litre combination microwave from electriQ. With the ability to microwave, grill or cook, you can use this microwave to prepare, manage and cook your food with efficient and delicious results.
Premium design
This combination microwave looks as great as it performs. With a stainless steel cavity, handle, front panel and trimmings, this microwave has a premium and polished appearance that will look fantastic on your kitchen counter and seamlessly complement other kitchen appliances.
Power
This combination microwave packs a punch with a powerful set of wattage levels for each cooking method. With 900W microwave power, 1100W Grill and a 2500W Combi power output, you can also adjust these between 5 power levels, which is perfect for altering the heat to suit different types of food.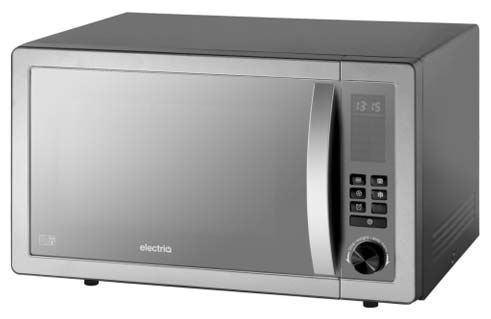 Flexible cooking options
This electriQ microwave is far from ordinary, with the ability to microwave, grill and use convection heating to cook your food. So whether you want to quickly reheat, grill a quick snack or even bake a chicken fillet, this microwave offers you maximum cooking convenience right from one appliance.
On top of this, this combi microwave also comes with 10 pre-set cooking menus, a speedy cooking function and the ability to defrost by time and weight so you can take food from freezer to the table effortlessly and efficiently.
Controls
The digital controls on this combination microwave consist of push buttons and a control knob which makes it clear which function you are selecting and easy to scroll between the cooking methods, menus, and power levels. If you want to prevent these controls from being accidentally operated, this microwave comes with a child safety lock that you can activate.
Timer
Forget constant clock-watching by using the handy 95 minute timer that comes with this combi microwave. Aside from allowing a more precise way of cooking, the timer is also great for allowing you to get on with other things because it will audibly alert you when the cooking time has finished.
Features:
Large 25L cavity size, great for large families
Easy to use digital controls
900W microwave power
1100W Grill and 2500W Combi
Hardwearing stainless steel cavity
5 Power levels
Cooking end signal
Practical 95min cooking timer
Child safety lock
Convenient 10 auto cooking menus
Defrost by time/weight
Durable stainless steel front panel and handle
Stylish black & silver exterior

Download Instruction Manual