Product Information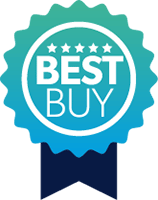 Best Buy
By collaborating with some of the world's greatest brands, we've created specialist Best Buy collections across our most popular product ranges. We will keep them updated, to bring you the best choice, the best price and the best products. And that's a promise.
What Stands out
Robust commercial design is perfect for everyday catering in busy cafés or pubs
Quickly reheats your favourite dishes in under 6 minutes, helping speed up service times in your kitchen
There's no turntable, so you've got plenty of room to reheat an entire meal or multiple dishes at once
Easy to use controls - rotate the dial anticlockwise to set the power level then clockwise to set the timer
Five power levels for you to cook various meals at the correct temperature
The Details
This reliable, easy-to-use microwave is a great helping hand in busy commercial kitchens. It boasts a spacious 34L capacity with an innovative flatbed design which means there is no inner glass turntable like a standard microwave, giving you extra cooking space. You'll be able to reheat multiple meals up at once, speed up service and fit awkwardly shaped cookware inside. Plus, the larger cooking volume makes it easier to keep clean, and therefore remain a lot more hygienic.
Turntables used to be an essential feature of any microwave to ensure heat-generating microwaves were spread evenly throughout your food. Still, thanks to new, advanced technology flatbed microwaves can also cook your food evenly without the need for a turntable. It's super easy to operate thanks to its stripped-back design, which allows you to set the time or power level with a quick twist of a dial.
There's a choice of five power levels up to a maximum of 1000 Watts to suit your preference, ranging from a high blast to a low defrost. It's extremely powerful that you'll be able to reheat all kinds of food in under a minute, including slices of pizza, pies, desserts, etc. In fact, the timer only goes up to 6 minutes because that's as long as you'll ever need to reheat any meal. Again, it all makes for quick a turnaround in the kitchen to keep hangry customers at bay.
Re-heat times
Slice of pizza: 35-40 seconds
Roll or pastry: 7-12 seconds
Sandwich: Small 35 seconds/ Large 1-2 minutes
Hotdog: 25-35 seconds
Hamburger: 1-2 minutes
Soup: 1-2 minutes
Casserole: Small 1-2 minutes/ Large 5-6 minutes
Essential info
Capacity 34L capacity
Type: Freestanding design
Functions: Microwave/defrost
Power levels: 5
Defrost: Yes
Turntable: Flatbed
Overall dimensions: H34.3 x W55.3 x D48.8 cm
Finish: Silver
More info
Max 1000 Watts
Flatbed design
Rated Voltage: 230V / 50Hz
Simple to use dial control panel
Time/defrost function
Weight: 19.2Kg
1 year warranty