Product Information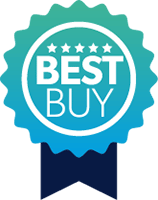 Best Buy
By collaborating with some of the world's greatest brands, we've created specialist Best Buy collections across our most popular product ranges. We will keep them updated, to bring you the best choice, the best price and the best products. And that's a promise.
What stands out
Conventional black finish and unbranded design seamlessly integrates into any kitchen
Choose between extraction or recirculation whichever suits your kitchen
Three extraction speeds give you rates up to 166m³ per hour
A built-in light give you a clear view of your cooking space and are ideal for ambient lighting
Simple push button controls make it really easy-to-use
If you choose to extract, this cooker hood is top vented
The details
This hood is the perfect addition to any kitchen and is ideal if you're going for a straight swap with your existing hood. With the option to extract or recirculate the air, this hood is adaptable to suit any kitchen layout.
By removing vapour and odour from the air during and after cooking, this hood helps to keep your kitchen smelling fresh. It even helps to stop any steam or grease settling on surfaces such as cupboard doors, so there's less cleaning to do. If you're unsure which method suits you best, extraction vents the air outside, removing grease as it passes through the aluminium filter. Recirculation draws air through carbon filters (which are available separately), removing odour, grease and vapour before venting it back into the room.
There are three speeds to choose from so you can choose the ideal settings for each dish you cook. It gives you a maximum extraction rate of 166m³/h overall, which is perfect for smaller kitchens. Controlled with push button controls, it couldn't be easier to choose your settings. They control the lighting too, with an incandescent light at the rear of the hood. They give more than enough light to help you see how your dish is coming along and they're even ideal to use for ambient lighting.
In terms of appearance, it has a simple design that does not create an obstruction within the room. With a black, unbranded finish, it seamlessly sits alongside your other appliances for a sleek look throughout your kitchen.
Essential info
Extraction speeds: 3
Max. extraction rate: 166m³/h
Lighting: 1 x incandescent
Max. noise level: 61dB
Energy rating: C
Dimensions: H 105 x W 597 x D 480mm
Whats in the box
1 x Conventional hood
1 x Aluminium dishwasher safe grease filter
1 x User manual
More info
Easy installation
Versatile conventional design
Perfect for small to medium kitchens
Extract or recirculate
Easy push button controls
Low noise levels
Aluminium grease filter included