Product Information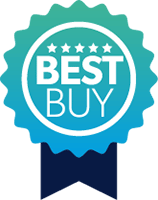 Best Buy
By collaborating with some of the world's greatest brands, we've created specialist Best Buy collections across our most popular product ranges. We will keep them updated, to bring you the best choice, the best price and the best products. And that's a promise.
What stands out
Store up to 5 bags of shopping with its 99L of space, ideal for smaller households
The freezer basket lets you to store and access your most-used items quickly and easily
The back is made from flame retardant metal rather than plastic, making it much safer
The freezer lid remains fixed in place when lifted open, so you can add or search for food with both hands
The details
If you're looking for added flexibility when storing your groceries, then this versatile chest freezer from electriQ is an ideal addition to your household. It boasts a simple, fuss-free design with deep storage that's capable of holding up to 5 bags of food. There's even a handy storage basket suspended over the compartment for quick and easy access to your smaller groceries or favourite packet of chips. Plus, the freezer comes with a clever counterbalanced lid that stays in position however high you open it, so you don't have to worry about it slamming shut behind you when you're rummaging around to find what you fancy.
As well as the kitchen, you have the added option to use this model in a garage, utility room or an outbuilding as a second freezer, as it runs brilliantly in temperatures as low as -15 degrees. It's super efficient to run, costing around £26 to run it for a whole year, so you can relax knowing that this model is kinder on the your utility bills. To ensure it's running as efficiently as possible, you'll need to manually defrost it occasionally. For added peace of mind, the freezer is fitted with a flame-retardant metal back that provides increased protection and meets the latest UK and European safety standards.
Essential info
Dimensions: H85 x W56.5 x D52.3 cm
Freezer capacity: 99 L
Freezer type: Chest
Hinge position: Back
Freezer baskets: 1
Noise level: 41dB(A)
Defrost: Manual
Colour: White
Warranty: 1