Product Information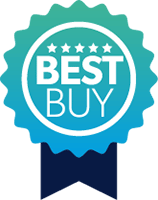 Best Buy
By collaborating with some of the world's greatest brands, we've created specialist Best Buy collections across our most popular product ranges. We will keep them updated, to bring you the best choice, the best price and the best products. And that's a promise.
What stands out
Store up to 8 bags of shopping with its generous 157L of space
Reversible door, so you can fit it into any corner of your room
Four star freezing provides the highest level of freezing performance available
Five transparent freezer compartments (3 drawers, 2 flaps)make it easy to see, store and organise your shopping
The details
This versatile freezer is a great choice if you're wanting to keep well stocked up on frozen goods. It boasts a generous storage capacity of 157 litres, which means there's plenty of room inside for 8 bags of groceries – perfect for medium-sized households. It's made up of five transparent compartments (two flaps and three pull-out drawers) so you to keep an eye on your food levels at a glance. Thankfully, you won't have to hurry to finish any frozen leftovers because this freezer boasts a 4-star rating, which means you can safely store frozen food for up to 12 months without any loss in taste or nutrients.
Essential info
Dimensions: H142 x W55 x D55 cm
Freezer capacity: 157 L
Star rating: 4
More info
Total Freezer Capacity: 157 Litres or 8 bags of shopping
Low Noise Level just 42 dB which is quieter than a conversation
Reversible doors so you can put it anywhere you like
Transparent freezer compartments
Refrigerant: R6000a
Rated Voltage/Frequency: 220V-240V/50Hz
Rated Power: 61W
Rated Current: 0.5A
Operate in ambient tempreture range of 10 to 38C
Weight: 42Kg
1 Year warranty