Product Information
DIMENSIONS: H 845 x W 480 x D 450mm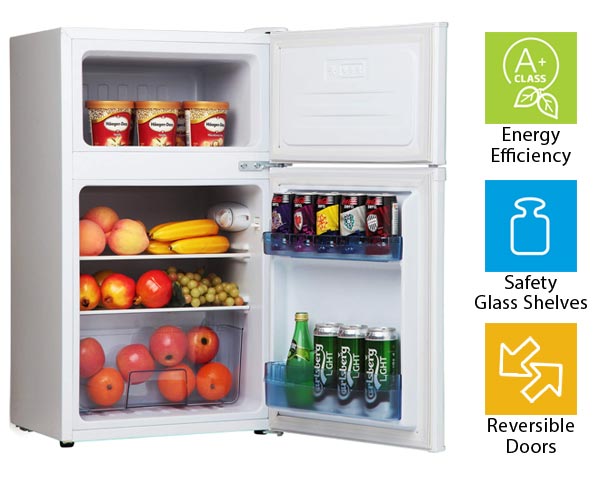 Built for convenience, the compact FD171.4 fridge freezer is perfect for small flats or kitchens, offering brilliant cooling and freezing capabilities for a small number of items. If you live alone or simply want somewhere to cool your drinks and snacks in your office or workshop, then this is the perfect solution.
FRIDGE FREEZER
Providing ample storage space for your essential items, the 49L fridge gives you excellent cooling power. With two strong glass shelves, you can easily separate raw and cooked items hygienically, ready to be used. A single fruit and veg drawer keeps your produce crisp, with free air circulation keeping your items fresher for longer. Also featuring an egg tray and two door balconies, perfect for bottles and cans, this fridge is surprisingly spacious.
An adjustable thermostat gives you the ability to create the perfect cooling conditions for your items. The freezer is positioned above the fridge, providing easy access to your frozen goods.
ENERGY EFFICIENT
SUITS YOUR NEEDS
Making this Amica fridge freezer suit any home, you can quickly and easily adjust its features to work with your room's layout. The feet can be adjusted to match the height with a unit or kitchen worktop, even making your items easier to reach.
The doors are also reversible, so you can switch the hinge side for easier opening.
Key Features
Universal Doors
Safety Glass
Drawer for Vegetables
Adjustable Levelling Feet
Tech Spec
Dimensions: (H) 84.5cm x (W) 48cm x (D) 45cm
Climate Rating: ST
Total Fridge Capacity: 49L
Total Freezer Capacity: 22L
Freezing Capacity: 2.5KG/24H
Noise Level: 40dB
Temperature safe time if power failure: 13H