Product Information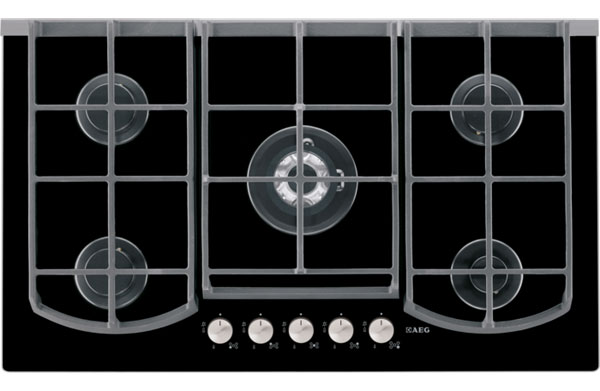 Dimensions: H 45 x W 880 x D 510mm
Cut-out size: W 830 x D 480mm
Do more and cook like a professional with the AEG HG995440NB gas-on-glass hob. With five burners including an integrated triple crown wok burner, the possibilities of cooking with this hob are endless, while offering plenty of space.
Delivering a number of useful features that improve safety, convenience and more, this hob fits comfortably into any home. With the traditional and fast cooking power of gas and a modern design, this hob suits any lifestyle.
COOKING UP A TREAT
Great for a medium to large family household or for anyone who enjoys cooking for guests, this hob provides plenty of room so you can time every dish to enjoy together. Utilise the full power of each burner and waste less energy by using the burner best suited to your pan size and still enjoy the best results.
The central triple crown wok burner provides quick, intense heat, perfect area for flash frying. Ideal if you enjoy Asian cuisine such as stir fries at home, the shape suits that of your wok, providing a more stable support while your meal cooks.
Control each burner using its dedicated rotary control which is positioned at the front of the unit. Automatic ignition means lighting can be done with just one hand. Simply push and twist to light the burner, saving your fingertips from possible burns in the process.
SAFER COOKING
Cooking is made even more enjoyable with this hob thanks to its handy safety features, helping to give you added peace of mind.
Safety thermocouples monitor the flame for each burner and, should this be extinguished for any reason, the flow of gas will automatically and instantly be cut off, preventing any further issues.
Cast iron pan supports offer an extensive and robust base for your pans while cooking. Reducing the risk of any pans tipping or spilling, you are provided with all round support on every burner. Handy silicon feet stop the supports from moving around, adding an extra level of safety.
Their unique design means you can slide pans off the heat for any reason, instead of lifting it away and finding somewhere suitable for it to stand.

SLEEK DESIGN
As well as offering fantastic performance, the AEG HG995440NB hob looks incredible too. The safe pan supports have been designed to fit neatly together, creating a consistent and tidy overall appearance of the hob.
A black ceramic glass surface offers a modern and sleek finish to the hob, helping it to integrate seamlessly with your kitchen. This surface makes cleaning really easy, with nowhere for dirt and grease to hide.
The rotary controls stand out with their silver finish and, once turned to ignite a flame, also offer a stylish red glow to highlight which burner is active.
Features
Gas-on-glass design
Easy to keep clean
Centre wok burner surrounded by a variety of different sized burners including a simmer burner
Special LED heat intensity indicators that get brighter the hotter the temperature
Cast iron pan supports, with a removable wok support
Front controls
Automatic integrated ignition
Steel capped rotary controls