Product Information
Dimensions:
W56 x D8.8 x H31 cm
Technical Details:
Airflow: 800 m³/hr
Pressure: 455 Pa
Max noise level: 69 dB
Min noise level: 51 dB
Connected load: 350 W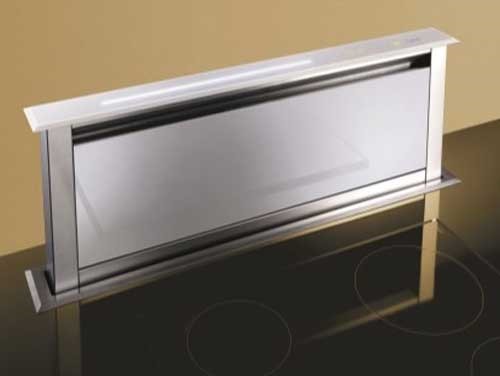 Sleek painted white glass and shiny stainless steel combine to present a highly contemporary kitchen essential. This neat, modern package has some great built in features.
With a compact and highly practical design which simply pops up out of your work top, your free to place the Best Downdraft extractor wherever you would like in the kitchen, however the closer it is placed to the hob the more effective it will be.
Unlike regular extractors it won't dominate or intrude on your kitchen space as it only rises up to 31cm.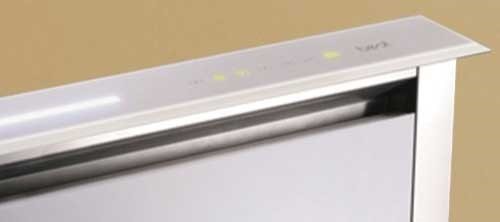 The Downdraft extractor can be fitted at a work bench next to the wall or in the centre of your space on a kitchen island, the design has no limitations to where it can be placed.
The extractor can be either set to recycle air or to duct air out. If you do choose to duct the air out you will need a 150mm kit. With an extraction rate of 800 m³/hr this Downdraft extractor is powerful enough to purify the air of a large kitchen.
This sleek Downdraft extractor is super easy to use with clear touchpad controls. There are four settings to select from to suit what dish you have in the making. The extractor reaches up to 69dB delivering you a fairly quite appliance.
The hood will also stop if there is an obstruction when in movement until the obstruction has been cleared, ensuring safe usage.
The top of the extractor also features a contemporary lighting strip which adds a modern touch as well as illuminating your workspace.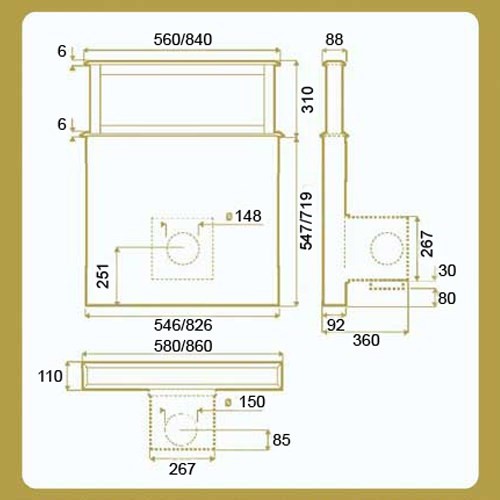 Features:
Installation: Downdraft
White glass
Size: 90mm
Stainless steel & painted glass
Touch control
LED lighting panel
4 Speeds
Grease filter: aluminium grid filter
Ducted out: Requires 150 mm ducting kit
Recirculating: Charcoal filter included to get you started