Product Information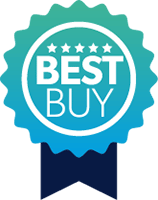 Best Buy
By collaborating with some of the world's greatest brands, we've created specialist Best Buy collections across our most popular product ranges. We will keep them updated, to bring you the best choice, the best price and the best products. And that's a promise.
What makes it Boss?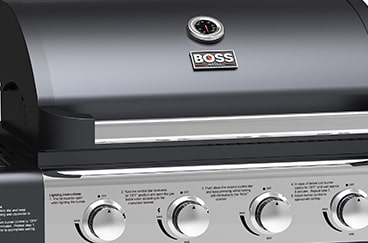 High-quality build
Built using the best materials, the Kentucky will be by your side for many summers to come. Down to every detail, it's built to last.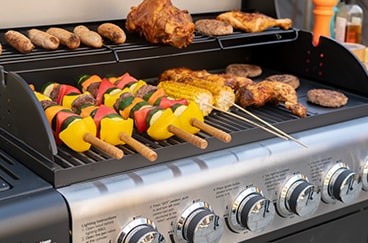 Even heat distribution
Evenly spaced burners create even heat distribution. Controlled individually, you'll get the perfect conditions to produce delicious results.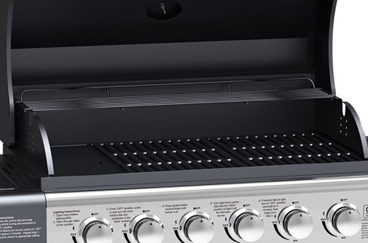 Grill and sear
The cast iron cooking area is split to offer versatile grilling. Get those authentic lines from the grate while searing meats on the other side.
The features
Kentucky Premium 6 Burner Gas BBQ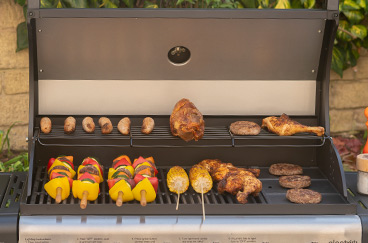 Precise heat distribution
Evenly spaced burners create even heat distribution, control them individually to achieve the perfect cooking conditions for your dishes with delicious results.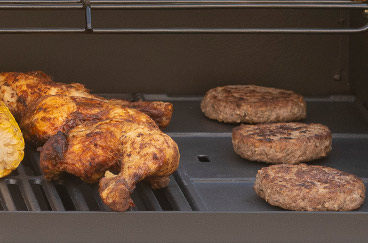 Grill and searing plate
The cast iron grill and searing plate not only help you to achieve authentic results, but they're durable and easy to clean between uses too.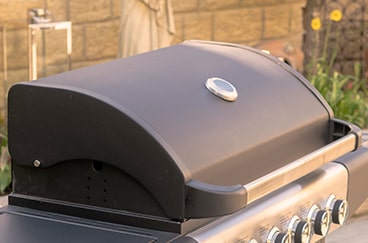 Twin skin lid
The twin skin lid helps to keep the heat inside, ensuring you maintain an even cooking temperature for the best results.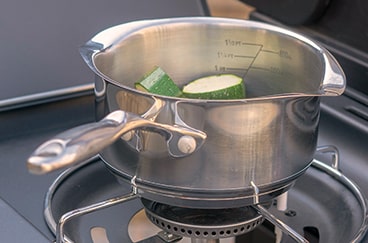 Side burner
When it comes to creating sauces, cooking sides or frying toppings, the 3.2kW side burner comes into its own so you cook everything side-by-side.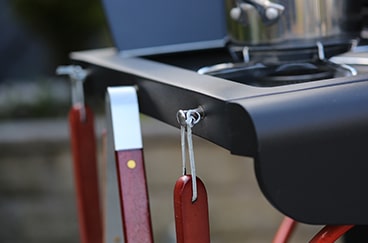 Shelves and hooks
Keep your essential seasonings, sauces and utensils close by, thanks to the handy shelf and utensil hooks.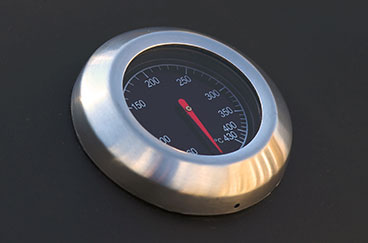 Temperature gauge
The integrated temperature gauge helps you to keep an eye on internal cooking temperatures without losing heat by opening the lid.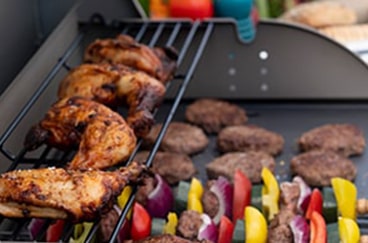 Warming rack
Perfect for keeping cooked items warm and toasting burger buns; the warming rack helps to keep the flow of food going.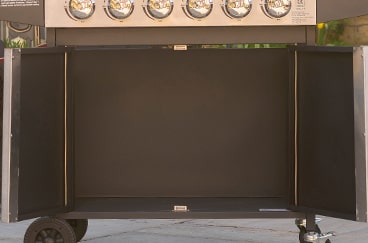 Storage
The heavy duty, double-skinned doors offer the perfect place to store food, plates and sauces, so everything is ready when you need it.
Kentucky Premium 6 Burner BBQCooking area
Main cooking space: 76 x 40cm. That's enough room to cook approximately:

26 Burgers

Don't just grill it. Boss it.
Forged from iron, steel and solid, British values, our BBQs deliver a finger-licking feast. We design high-quality grills, so you can serve up a sizzling experience for your family and friends.
Tongs at the ready? Then step up to the plate, Boss.
WHAT STANDS OUT
High quality barbecuing at a value price
Premium build quality, designed to last
Double skin lid insulates and cooks evenly to 430C
Features a cast iron grill and searing plate
A handy side burner is perfect for preparing sides
Cooking space to feed any large party: 76 x 41 cm
Black stainless-steel grill with twin-skinned doors
Assembly required, be ready to grill in around 1 hour
QUICK AND DELICIOUS BARBECUING
Start barbecuing in as little as 3 minutes! Barbecuing has never been so quick and easy thanks to single shot gas ignition, no need to mess around with charcoal and lighter fluid. With no flames to tame and a quick heat up time you can get straight down to cooking, why wait until the weekend to cook up a feast?
This quality piece of kit easily caters for larger parties with its spacious grid and searing plate. There's even a side burner for smaller dishes and tasty sides. With a large warming rack you can easily maintain a constant flow of food for all your guests.
DIVERSE COOKING
This premium barbecue offers multiple cooking options with a practical cooking space split. 1/3 Of the cooking space is made up of a porcelain searing plate and 2/3 a cast iron grid. With such a spacious cooking area you can easily grill multiple meats, braise prawns, sauté veg and even fry eggs, to suit everyone's appetite.
If that's not enough cooking space for you there's also a side burner acting as a hob. Ideal for smaller dishes and tasty sides. Boil rice, heat beans, warm and reduce sauces. Make a complete outdoor feast.
GREATER COOKING CONTROL
Cooking with gas you can get down to barbecuing faster, the barbecue heats up to 275°C in as little as 3 minutes. Equipped with an integrated thermometer you can be fully aware of what temperature your barbecue is at and when it's prime for certain foods. Cook with the hood open or closed. The barbecue can reach up to 380°C when open and 510°C when closed.
FUNCTIONALITY
Once you get into the swing of barbecuing and your cooking up a storm there's a spacious warming rack available to hold food whilst maintaining the heat. Ideal for pre-party preparation and also enables you to batch cook and enjoy the party yourself.
The barbecues durable trolley build includes a storage cupboard, ideal for housing food supplies and even cookware when outdoors. With two side shelves at your disposal there's plenty of space to hold raw food and plate up your burgers. There's even side hooks to hang a tea towel and store your utensils.
Also included is a gas hose and regulator, ideal for storing during the colder months. To keep your barbecue in tip top condition we would advise the use of a cover and to store the barbecue in a dry storage space.
The only extra purchase you will need to make is the gas tank and of course your food supplies. This BBQ is suitable for LPG or Propane Gas fixture only.
Dimensions: H106.5 x W157.6 x D53.5 cm
Cooking Space: W76 x D41 cm
Features:
Gas operated, no need for messy charcoal
6 Gas burners + side burner with flame tamer, ensures safe cooking
Spacious cooking, cook 14 burgers & 25 sausages at once
Easily caters for 12 people
Split cast iron grill and searing plate cooking offer complete versatility
Max temperature when hood is closed 510°C and 380°C when hood is open
Even, consistent heat distribution, non-stick & easy to clean
Porcelain enamel wire & chromed wire support warming rack, keeping food hot & at the ready
Durable control knobs ensure changing the temperature is easy
Total heat output: 3.2kw per burner
Storage space below grill measures H 480 x W 720 x D 380mm
Gas tank not included (LPG or propane gas required)
Includes UK standard hose and regulator for an easy set up
Weight: 47.3kg
Delivered flat packed in 2 boxes
Supplied with a 27mm clip on propane regulator (37mbar) suitable for use with the following types of gas: Calor Patio Gas, Flogas Leisure gas, and BP Gaslight.