Product Information
Dimensions: H 725 x W 898 x D 360mm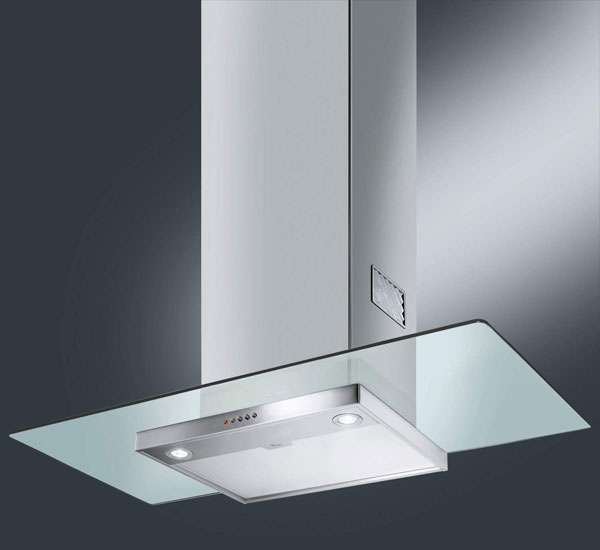 Make a bold style statement in your kitchen and combine it with brilliant extraction power with the KFV92DE chimney cooker hood from Smeg.
Finished in high quality stainless steel and featuring a beautifully crafted glass screen, this chimney hood suits any kitchen décor and design, while proudly standing out on its own accord. Add a modern touch to your kitchen.
SUITS ANY KITCHEN
Providing an hourly extraction power of up to 560m³, this Smeg cooker hood is ideal for larger kitchens, effectively clearing odours and unwanted steam or smoke.
With the option to extract or recirculate the air collected, it doesn't matter where in the kitchen your cooker is located. Simply adapt to suit your needs when fitting for brilliant results every time.
EXTRACTION
Setting this hood to extract air removes odour, smoke and steam by pushing the collected air through a vent to the outside of your home.
RECIRCULATION
By passing the air through an aluminium filter, any odour or grease is removed. The air is then recirculated back into your kitchen.
3 SPEEDS
Choose between three fan speeds to suit the dish you are cooking. For big meals with several pans, or simply a dish that creates a lot of smoke and odour, you should choose the highest setting. The durable 270W motor works hard to keep the flow of air moving on any setting, providing brilliant and reliable results.
BRIGHTER COOKING
Two integrated halogen lights provide the perfect illumination for your hob and cooking area. Lowering the risk of burning or overcooking items, you will have the perfect view so you can cook every dish to perfection.
Key Features
270W Motor
Push button controls
3 Speeds
2 x 20 W Halogen lamps
Single aluminium grease filter
Internal re-circulation possible
Vent outlet Ø 150mm
Nominal power: 270W
Extraction rate (IEC 61591): 290-560 m³/hr
Noise level (IEC 60704-2-13): 52-67 dB(A)
Please note: This chimney hood is designed to be fixed to a wall.
Please note: This chimney hood is designed to be fixed to a wall.