Product Information
Ultimate bottle storage
With 389 litres of storage space the Bosch KSW30V80GB freestanding wine cooler can perfectly chill up to 120 bottles. There are 9 sophisticated oak shelves, 8 of which are height adjustable to accommodate bulkier bottles.
Stylish and innovative
This wine cooler is not only spacious but also has some great features and style to bring to the table. At 185cm tall with a sleek aluminium finish this fridge is sure to stand out. With a smoked glass door that has UV protection all your favourite bottles are protected from light.
Chill your bottles to suit your preference with a wide temperature range from 6ºC to 18ºC. The electronic controls are external, enabling you to easily modify the temperature without interrupting the internal temperature by opening the door.
Energy efficient
The Bosch KSW30V80GB freestanding wine cooler offers the idyllic place to build up and take care of your wine collection or simply to hold stock ready for a great party. You don't even need to worry about the cost of running this appliance as it has energy efficiency rating of B, it will only cost you approximately £23.16 to run if for the year.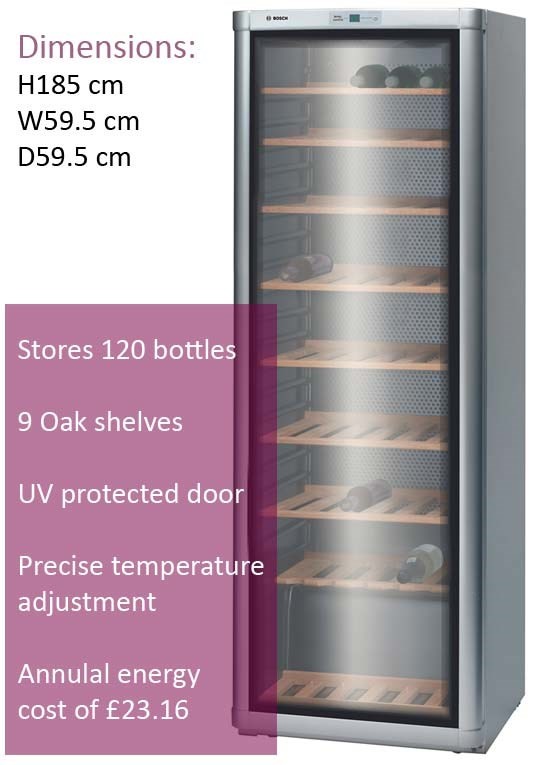 Features:
Gross capacity 389 litres / 13.7 cu.ft.
Net capacity 360 litres / 12.7 cu.ft.
Electricity consumption 193 kWh per year
Right Hand Hinge, Door Opens Left to Right
Approximate annual running cost £23.16
Based on average figure of 12p per kWh including VAT
Wine rack for up to 120 0.75cl bottles
9 wooden shelves (8 are height adjustable)
Temperature adjustable from 6ºC to 18ºC
Interior light
External electronic control
Anti-UV light smoked glass door
Colour: aluminium
For optimum performance a ventilation distance of 4cm around the appliance is recommended on installation of these product
---