Product Information
The kitchen sink is a detail you need to get right in your kitchen as you'll undoubtedly use it every day. The Iris sink from Smeg has a stylish, contemporary look all of its own, offering practicality, durability and reliability for years to come.

Why choose the Iris Smeg sink?
The Iris LI915SGS sink is a double insert sink constructed from high quality stainless steel with a substantial thickness. The sink is highly durable as the stainless steel wont crack or chip, its super easy to clean and also heat resistant which is ideal for when you're draining pans.
Smeg sinks are 40% deeper than most other sinks on the market, giving you greater capacity, enhancing the versatility of use.
Rinse, prepare, wash and drain all at once with the Iris sink. The stainless steel sink is complimented by two accompanying reversible glass chopping boards on either side. Adding a touch of sophistication to the sink as well as some great practicality.
How will it fit in to my kitchen?
Being an inset sink the Iris sink is the easier choice to fit. Inset simply means the sink will be placed in to the prepared hole in your counter top. When in your prepared hole the sink should sit on the all-round seal, you then need to clamp it down then fit the standard accessories to the bottom of the sink.
Dimensions:
Bowl depth: 1 x 210mm, 1 x 150mm
Bowl width: 1 x 400mm, 1 x 147mm
Drain: 3.5 inches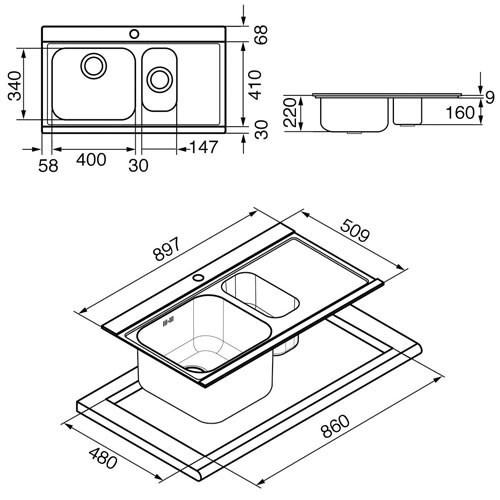 Finishing touches
The Iris sink does not include taps so you have the freedom to select your own that will beautifully compliment your kitchen and new Iris sink. Take a look at the coordinating Smeg taps we have to offer.
Features:
Stainless steel
Inset sink
1.5 Bowl
Right hand side sink
Left hand side drainer
Reversible stainless steel/silver glass chopping boards
Minimum base unit 70cm
Taps not included
1 Year manufacturer warranty
Standard accessories included:
Overflow, drain, gaskets, fixing clips and dishwasher drain tap