Product Information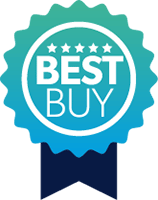 Best Buy
By collaborating with some of the world's greatest brands, we've created specialist Best Buy collections across our most popular product ranges. We will keep them updated, to bring you the best choice, the best price and the best products. And that's a promise.
Powerful And Silent
Nikola Tesla Prime has an extraction speed of 5.1 m/sec and a noise level of just 61 dB(A) at maximum speed. Unrivalled in its category.
Easy To Clean And Easy To Maintain
The new look guarantees the easy cleaning of both the top and cast iron grille, which can easily be placed in the dishwasher. The internal section of the product can be accessed by removing the grease filters and the patented Elica system allows the odour filters to be directly extracted from the surface of the top: all cleaning and maintenance operations can be carried out in total comfort.
Easy To Use
The Direct Slider navigation system allows simple and intuitive use of both the hob and hood.
Pot Detector
NikolaTesla helps you save save time and money. It informs when a zone is ON and not being used, thus avoiding energy wastage, and automatically activates cooking zones are detected. All that's left to do is adjust the power level and enjoy your cooking.
Temperature Manager
Delight your guests with perfect meals every time using this function allowing you to configure the hob with 1 programme. Temperature reductions are optimised for very delicate cooking (mousse, sauces, keeping warm) and for cooking requiring higher levels (boiling).
Stop & Go
If you're in the kitchen and they call you from another room, or if you simply need a break. By simply pressing the Stop&Go key can deactivate all the cooking zones and move away in total safety.
Autocapture function
The hob automatically adjusts the extractor fan based on the number of cooking zones being used and their power setting
Key Features
Extractor built into the hob for the most efficient extraction
Four induction zones
Pot detector so you don't waste energy on inactive zones
Stop & Go function to pause the cooking and resume it exactly as it was when you're ready again
Hard-working 610 m³/hr extraction rate
Relatively low noise level - just 66 dB(A)
AAC rated for energy efficiency, air flow efficiency and grease filtering efficiency
150mm (6") ducting connector with adapter to 222mm x 89mm ducting