Product Information
Which? Best Buy Fridge Freezer July 2016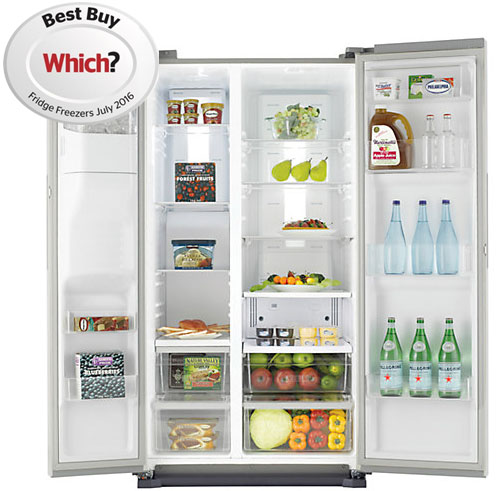 The stylish good looks of the Samsung H-Series are sure to impress and inspire culinary creations. The polished stainless steel finish instantly adds a contemporary touch to your kitchen. With built-in EZ handles the fridge freezer is super easy to open with minimal effort, the inset handle design maintains a modern and seamless design. Whilst the feature packed design enhances your kitchen experience.
SPACIOUS STORAGE
Fit for the family home, this Samsung H-Series fridge freezer has a wealth of storage space on offer with an impressive 365L capacity, more than enough to fit the big shop.
With multiple shelves, drawers and balconies available in both the fridge and freezer there's a perfect place for everything, enabling you to organise your food store it in optimised conditions.
FRIDGE CAPACITY: 365L
FREEZER CAPACITY: 184L
OPTIMISED STORAGE
Twin cooling plus
The Samsung RS7667FHCSL uses two separate air flows and precise temperature control to maintain optimal humidity levels on both the refrigerator and freezer side. Resulting in better food quality, keeping your fruit and veg crisp and fresh, preventing freezer burn on your ice cream and also stopping cross contamination of flavours which is highly practical as you wouldn't want your ice cubes to taste like the garlic bread you have stored in the fridge.
Multi air flow
Small vents are on every level of the fridge freezer. These vents ensure an even temperature is maintained which prolongs the life of your food, reducing waste.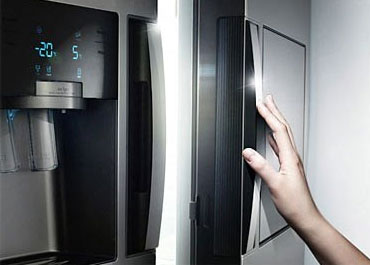 CONTROL AT YOUR FINGERTIPS
Featuring an external LED display which emits a modern blue glow you know exactly what's going on inside your fridge freezer without having to even open the door. Keep an eye on the temperatures to ensure optimum food storage, be aware of when it's time to change the filter and there's even a vacation mode for when you're off on holiday.
INSTANTLY REFRESHED
With the touch of a button from the stylish control panel you can instantly enjoy chilled water and cubed or crushed ice. With a plumed design you won't need to refill a water tank.
ILLUMINATED VIEW
Open up the fridge freezer and you're presented with a clear, bright view thanks to LED tower lights. These stunning interior lights not only give you clear visibility of what you're storing but also work to conserve energy. The lights emit less heat than standard lights, which means your fridge freezer doesn't need to work as hard to bring the internal temperature down. Placed at the rear of the appliance the lights also save space, enabling you to store taller items on the top shelf without a problem.
Which? Best Buy Fridge Freezer July 2016
Features:
Spacious 365L capacity
Air flow cooling for fresher food
Twin cooling+
Stylish LED display with touch controls
Frost free, never manually defrost the freezer again
Fast freeze, rapidly freezes new additions
Clear view ice maker, cubed and crushed ice
5 Adjustable fridge shelves
2 Fridge salad crispers
4 Freezer shelves
2 Freezer drawers
Fridge space: 361L
Freezer space: 184L
Interior LED light
Auto defrost fridge
Convenient holiday mode
Freezing capacity 12kg/24hr
Power failure safe storage time: 12hrs
Annual energy consumption: 450kWh
Energy efficiency rating: A+
Child lock
Temperature warning
Not suitable for outbuildings
Optimum ambient temperature: 10-43 °C
Noise level: 39dB
Plumbing required
Dimensions: H178.9 x W91.2 x D71.2 cm
Packed dimensions: H190.7 x W97.4 x D77.6 cm
Weight: 117 kg
N.B. All large fridge freezers are doorstep or garage delivery only.
---