Product Information
CAPTURE THE WILD
Did you know that your garden may be a potential haven for Britain's most fascinating creatures? From bats to badgers, owls to otters, your garden offers the perfect opportunity for watching some amazing wildlife on an almost daily basis. This camouflaged wildlife camera is perfect for recording some of Britain's most secretive animals, day or night, rain or shine, in stunning detail. Plus, for added convenience, the camera can be set to trigger when it detects motion or at timed intervals.
- Monitor wildlife or unwanted intruders
- Full HD video recording
- High quality 12 megapixel camera
- Suitable for all weather conditions
- Night vision up to 15 metres
- Motion activated recording
- Battery powered - easy install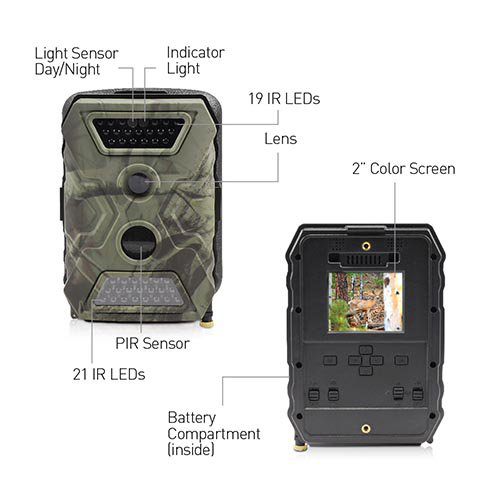 SET & FORGET
This easy to set up camera is powered by 4 x AA batteries as standard, which provides a running time of up to 3 months without having to replace the batteries. However, this can be increased up to 7 months using the additional four battery slots in the back of the camera. With its sturdy build and compact size, the Swann Outback Cam can be placed almost anywhere indoors or outdoors, making it great for using in remote locations to help capture unwanted behaviour such as trespassing, vandalism, fly tipping & more.
STORE AND SHARE
The Swann OutbackCam features an SD Card slot for you to conveniently record and share your photos and videos from one device to another. The camera also features a 2 Inch colour screen so you can view your images directly on the device.
Features:
Clear resolution, 1080p camera for a crystal clear picture
Powerful night vision of up to 15 metres
Battery powered for ease of use
Viewing angle of 62 degrees to monitor wildlife or unwanted intruders
Weatherproof rated for use indoors or outdoors
Specifications
Video Format: AVI
Video Resolution: 1920 x 1080 pixels
Video Frame Rate: 15 fps
Video Recording Duration: 1 ~ 60 seconds
Still Image Format: JPEG
Still Image Resolution: 5, 8 or 12 Megapixels
Multiple Still Image Capture: Yes (up to 7 photos per trigger)
Image Overlays: Date / Moon Phase
Record Delay Range: 5 seconds ~ 10 minutes
Night Vision Distance: Up to 50ft / 15m
Number of Infra-Red LEDs: 40
Battery Type: 4 or 8 x AA
Memory Type and Size: SD Card up to 32GB
Sensor Range: Up to 50ft/15m
Sensor Trigger Speed: < 1 second
Dimensions
L x W x H: 98 x 77 x 131mm
Weight: 300g
Contents
OutbackCam® 12MP Camera
Tree Mounting Strap
USB Cable
Operating Instructions
Why not add a 32GB MicroSD Card with Adapter