Cooker Hoods
Cooker Hoods Explained:
Chimney Hood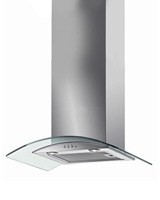 Suggested in the name, these hoods are shaped like a chimney and need to be fitted to a wall. Typically made of stainless steel, they can come with a glass canopy to catch steam and a telescopic section to extend to the ceiling. Coming in a range of sizes, they are suited for all types of hobs.
Island Hoods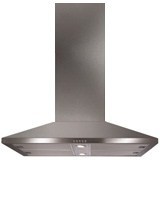 Island hoods are attached to the ceiling and are generally the largest cooker hoods available. Making a stunning focal point of the kitchen, they come in a variety of styles and shapes that suits all types of hobs and kitchens.
Canopy Hoods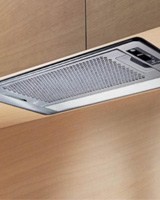 Designed to fit snuggly on the underside of your kitchen cabinet, canopy hoods don't interrupt your kitchen aesthetic. Suitable for traditional four-ring freestanding cookers or hobs, they have a variety of settings and controls for more specific use.
Conventional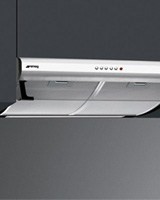 With a width of either 60cm or 90cm, and rear or top ducted, conventional hoods come in a range of colours and styles so you can tailor it to you kitchen décor. Normally the cheapest hood available, they fit into the wall above a four-ring cooker or hob.
Integrated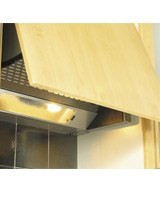 Integrated hoods are similar to canopy hoods, but they require their own space between two of your existing cabinets, then a matching cabinet door placed on the top. Suitable for a four-ring traditional hob, they come in a variety of sizes to suit your kitchen space.
Downdraft Extractors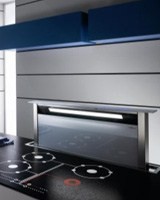 Ideal for those who either cook on an island or don't like the look of a traditional cooker hood, downdraft extractors are on the higher end of the price ranges. Its minimalist and flexible approach to your cooker or hob position makes it a popular choice, especially as it can be hidden away after use.
What's the difference between extraction and recirculation?
Vs
Recirculation
Recirculation hoods draw up the cooking fumes and grease through charcoal filters before releasing clean air back into the kitchen. They can be installed anywhere, especially useful for kitchens that can't reach an outside wall with extraction ducting.
What extraction rate will you need?
To find the best extraction rate for your kitchen you need to know the volume of it, so get the tape measure out and a calculator, and follow these simple steps!
What size hood should I buy?
Your new hood should be the same width as your existing hob or cooker. For example if you have a 60cm hob or cooker you will need to buy a 60cm hood, we stock hoods to fit all hobs and cooker sizes.
Will there be lots of noise from the hood?
The noise of the hood often depends on what level you have it on at the time, and this noise level is measured in decibels (db). The noise level of a cooker hood can range between approximately 40db to more than 60db. An average conversation noise level is 60 db. So if you want to chat whilst cooking, find a hood that has settings that go below this level.
To help you find the right cooker hood for you, here's a quick reminder of the key essentials to be looking for:
What type of hood do I need?
Chimney
Island
Canopy
Conventional
Integrated
Downdraft
Which ventilation do I need?
Extractor
Recirculation
What extraction rate do I need?
Length x Width x Height of kitchen x 10 = Extraction rate (m³/h)
What type of hood do I need?
Chimney
Island
Canopy
Conventional
Integrated
Downdraft
Which ventilation do I need?
Extractor
Recirculation
What extraction rate do I need?
Length x Width x Height of kitchen x 10 = Extraction rate (m³/h)
---
Frequently asked questions