Integrated Freezers
Fixed/Door-on-door
A fixed/door-on-door fitting means that the cabinet door is attached and fixed to the fridge door, as shown below left.
There is then just one set of strong hinges used to support the combined door unit, as shown below right.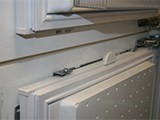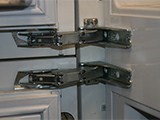 Sliding Door
With a sliding door there is a rail across the inside of the cabinet door, which the fridge door sits in. As the door is opened, the fridge door slides along this rail (below left). This mechanism uses two sets of hinges: one for the furniture door and a separate one for the fridge door, as shown below right.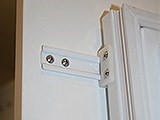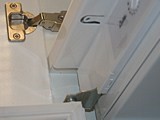 We stock a wide range of Integrated Freezers that have been carefully chosen to suit each individual need. Whether you are a large family in need of a large 7 drawer in-column integrated freezer, or a couple looking for a simple three drawer freezer.
All of our Integrated Freezers fall within energy efficiency class A, ensuring that you find a freezer that is kind to your purse.
Once the appliance has been fitted, you can fit a cupboard door on the front of your freezer, giving your kitchen a sleek and seamless finish