Product Information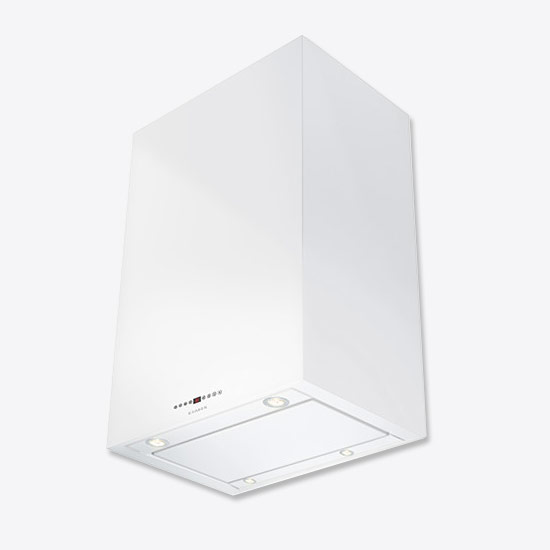 The Faber Cubia Isola Island Cooker Hood provides an energy efficient extraction solution for your kitchen. Its versatile, stylish design and means this island cooker hood fits into almost any kitchen style while making a statement of its own.
Stylish Island Cooker Hood
With a contemporary and modern design, this hood creates a great centrepiece above your island. Its white gloss finish produces a sense of space, diffusing natural light around your kitchen.
Useful Features
The Cubia Isola cooking hood not only looks incredible above your island; it is packed with features that help to make your cooking experiences fresher. Extraction rates are increased thanks to this hood's wide base with the ability to draw in air from all directions. Reduced noise makes this hood the perfect addition in any home, so you can get on with the cooking in peace.
Using Hour24, you can set the Cubia Isola hood to run at a low level for 24 hours to keep the air in your kitchen fresh.
Brighter Cooking
Four spotlights illuminate the whole cooking area, so you can take full control over your cooking. The Comfort Light feature lets you lower the light intensity at the push of a button, perfect for simmering and boiling, when your full attention is not required.
For those tougher tasks, activate the Intensive Speed setting to clear away those nasty smells in less time. This feature runs at high intensity for up to ten minutes.
Features
Comfort panel with perimeter extraction
Remote Blower - Allows you to position the motor anywhere you'd like if you also purchase the remote blower kit
Intensive speed with 10-minute cut-off
Automatic 30-minute cut-off
Hour24 - allows you to switch the hood on for 24 hours at a low level so it continues to clean the air with a low noise level
Filter alarm
Remote control included
Comfort light
4 x 20W spotlights