Beautifully clean-cut and modern, this touch controlled ceramic hob by Belling is super-fast, stylish, and safe, providing a quality cooking surface that will be with your for years!
Dimensions:Width: 59cm/ Depth: 52cm
Rapid heat
With Belling's unique fastlite elements, you get a faster heat response than standard ceramic heating elements, allowing you to get your food cooking much quicker.
Each hob has 9 power levels so that you can have more control over the temperature, and find a more precise level for whatever dish you cook.
Clever controls
You'll find the touch control panel at the front of the hob – a much easier and safer way of controlling your cooking without having to get your fingers anywhere near the hot pans!
Safe
With a child safety lock that is activated by a certain combination of buttons, you can have a peace of mind knowing that no one can accidentally operate the hob when the kitchens not under your watch!
And don't worry about your food overheating or the hob getting too hot! With the auto switch off, the hob will cut the power off to reduce the risk of fire, and burnt food if it gets too hot!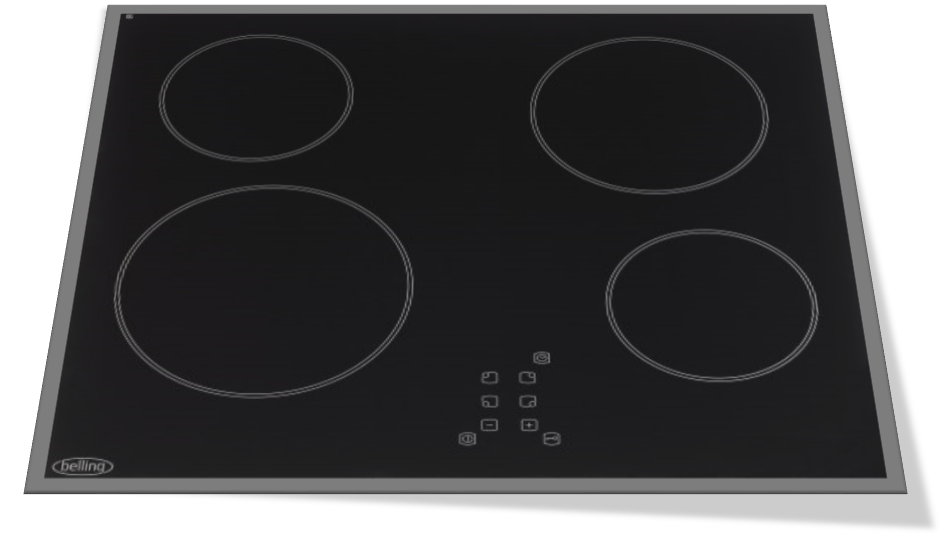 Design
With a clean and modern design, this hob will settle perfectly into any kitchen, either to merge with the already modern design or as a nice contrast with a more traditional looking space.
It can either be fit flushed so that it's at the same height as your countertop, provides a great sense of continuity throughout the kitchen that appears more spacious for the work surface.
Great for any kitchen, this brilliant hob from Belling will help you create some fantastic meals as well as a fantastic focal point for the kitchen!
Black glass ceramic hob
Four cooking elements in 2 sizes
Fastlite elements for a rapid heat response!
9 power levels
Child safety lock