Product Information

Lec CF100LW 100 Litre Chest Freezer – White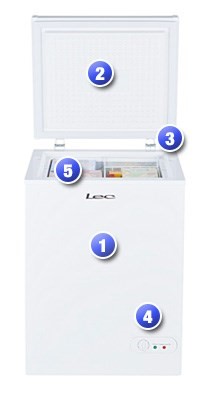 Generous Freezing Capacity
At only 58.5cm wide the CF100LW chest freezer still has a 100 litre gross capacity. It's the perfect solution to providing extra freezing capacity without taking up too much space.
Counter-Balanced Lid
Once the lid is opened it will stay in position so you can reach into the freezer without worrying that the lid will fall back down.
Metal Hinges
We use robust metal hinges on our chest freezers to withstand the strain of opening and closing the lid during the life of the freezer.
4 Star Freezing
Freeze fresh food and store frozen food for longer with our 4 star rated freezers, which freeze at a temperature of -18 C or below.
Freezer Basket
Use the handy freezer basket for those smaller items which you want to find quickly. The basket can be removed if you need to free up that extra space.
A+ Energy Rating
Our refrigeration is A+ energy rated helping to reduce your energy bills and the effect on the environment.
Adjustable Thermostat
You can adjust the cooling temperature of the fridge to suit your preference or for the food you are storing. It's also useful to lower the temperature when you restock your fridge with new food.
Easy Cleaning
The smooth surface and design of the interior make it easy to wipe our refrigeration clean.
For those that like to shop in bulk, those who like to be prepared for any eventuality, those who like to have plenty of options at dinner time and those with larger families, the CF100LW is a perfect choice.
Boasting a 97 litre capacity this chest freezer also features an adjustable thermostat and a handy storage basket. The freezer lid is counter balanced, this makes it easy to open and close, and the integrated handle only makes things even easier.
Most conversations between two people will register at around 60-70dB. This Lec chest freezer will work almost silently in the background with an impressive noise rating of only 40dB!
The Lec CF100LW comes with an excellent price tag, but the savings don't stop there. This model features an 'A+' energy rating with an annual running cost of around £26! That's less than £2.20 a month!
Key Features
100 L gross capacity
97 L net capacity
Integrated handle
Technical Specifications
CFC/HFC free
Refrigerant type: R600a
A+ energy rating
Energy consumption per year: 175 kWh
Noise level: 40 dB(A)
Replaceable door gaskets
Power cut safe time: 5 hours
Mains light
Climate class: SN/T
Freezer Specifications
4 Star freezer rating
Adjustable thermostat
Manual defrosting
Freezing capacity: 8 kg/day
Freezer Furniture
Installation
Current: 0.25 A
Connection rating: 56 W
Levelling feet
Fuse rating: 13 A
Fitted 3 pin plug
Dimensions (mm)
Height: 830
Width: 585
Depth: 562