Product Information

This is a graded product. A2 products may have minor visible dents & scuffs. All products are tested and are in good working order.
GRADE A2 - Minor visible dents & scuffs
For the future of laundry, the ÖKOKombi 9kg washer dryer with Woolmark Blue label is the best for your clothes and for the planet. The concept is simple - maximum cleaning effect with minimum overall cost. It has the best energy efficiency, the best time efficiency and the best 1600rpm gentleness on the market.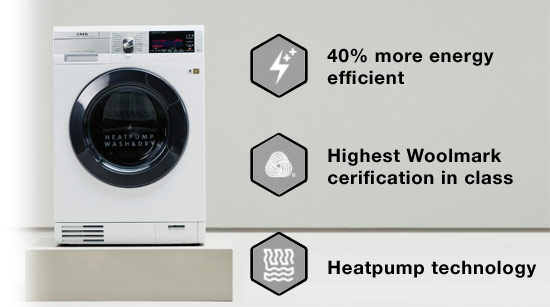 THE MOST EFFICIENT WASHER DRYER IN HISTORY
What sets this washer dryer apart from any other washer dryers is that it uses 40% less energy, while delivering exceptional drying performance and fabric care. This is all thanks to the introduction of heat pump technology. In fact, the AEG L99695HWD is the world's first-ever washer dryer to use revolutionary technology. Heat pump technology enables perfect drying results at a lower temperature than in conventional dryers which makes your clothes much less susceptible to any shrinkage, tearing and fading.
THE BENEFITS OF HEAT PUMP TECHNOLOGY:
Best in class energy and water consumption - 40% energy rating which equates to a saving of up to £70 per year in energy costs alone
Outstanding drying performance - Do both your washing and drying in one cycle, without compromising on performance.
Woolmark Gold Accreditation - Extra gentle washing and drying – thanks to the Protex 'soft drum' and much lower drying temperatures.
OTHER FEATURES
Every garment washed at the perfect level
OptiSense technology uses intelligent sensors to optimize the settings for each load. As a result, every garment is perfectly washed and perfectly dried.
Extraordinarily quiet running, every cycle
To keep your home peaceful, this washer dryer is one of the quietest on the market. Its inverter motor is completely brushless, for extremely quiet running.
No compromises - perfect drying using 40% less energy
Save 40% on energy without compromising on drying results. The HeatPump technology uses lower drying temperatures, for a gentler, and much more energy-efficient performance.
Stain action option
The stain option allows you to use stain remover in the pre-wash compartment of the detergent drawer, it is then added at the correct stage of the wash cycle.
Sensitive option
Designed specifically for people who are extra sensitive to dust and pollen. Works on cotton and synthetic programmes where fabric is gently moved around and has an extra rinse option so particles are rinsed out effectively.
Silent system plus
Dedicated to producing a quiet, high-performance laundry range, we have developed advanced technology to ensure our washing machines are as unobtrusive as possible. The powerful new inverter motor and superior insulation effectively absorb vibrations and make our washing machines noticeably quieter.
Inverter motor
This powerful new brushless constructed motor is not only designed to be more durable but also provides a superior performance versus standard motors.
Aqua control and alarm
Aqua Control is an internal system which monitors the water level to detect leakage.
Automatic child safety
Keypads can be locked to ensure temperatures and programme selections cannot be changed - making certain your laundry is always safe.
PROGRAMMES
Cotton programmes
Includes cotton economy, cotton & prewash, and cotton drying
Synthetic programmes
Includes synthetic wash and synthetic drying
Delicate programmes
Includes delicate wash and delicate rinses
Wool plus programme
The only wool programme in the market with a cool down at the end of the wash phase preventing chill-shock when the cold rinse begins, ensuring shrinkage is minimised.
Easy iron programme
By keeping your wash load moving and using a cool down phase with cold water, this programme protects delicate and synthetic fabrics from developing permanent creases.
SPEC
Washing capacity: 9 kg
Drying capacity: 6 kg
1600 RPM spin speed
OVERVIEW
Efficiency meets performance.
Woolmark Blue (formerly known as Woolmark Gold) certified in both washing & drying phases
Washer dryer for a space-saving, all-in-one performance
OptiSense technology to tailor the settings to match each load
Brushless inverter motor for one of the quietest performances possible
HeatPump technology for more energy-efficient performance
3-compartment detergent dispenser
Aqua control and alarm
Automatic child safety
Drying time option