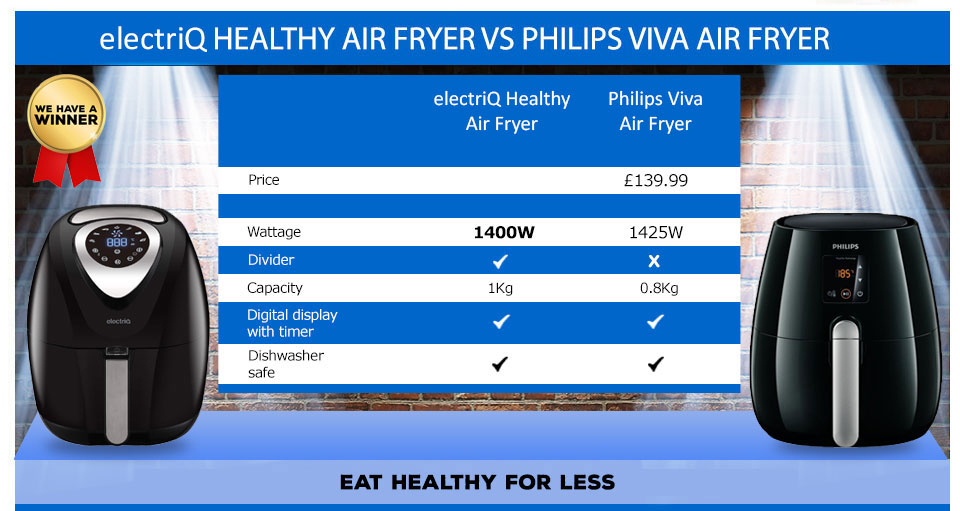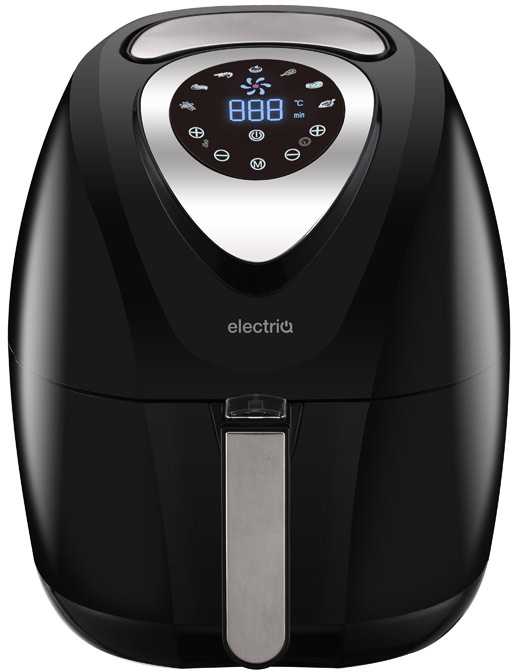 Enter a world of healthier cooking
Make your favourite meals healthier and enter a world of healthy cooking opportunities with the Air Fryer from electriQ.
Cooking with an Air Fryer is a healthy way for you to enjoy your favourite foods, without the guilt! With just one teaspoon of oil, or none at all, you can still enjoy incredible results for foods like fish and chips and onion rings. It's versatile too as it can even be used to cook food like chicken or even cake!
Simple Steps Towards Healthy Eating
-Delivers much healthier results than cooking with more conventional appliances such as deep fat fryers by using only one teaspoon of oil each time
-The unique divided bowl offers the opportunity to cook more than one item of food at once
-Provides the opportunity to cook a wide range of foods from chips to chicken
-Unintrusive, compact design which fits conveniently on your worktop and can easily be left out ready to be used
-Enjoy delicious results that taste just as good, or better, than traditional methods
Baked to Perfection
You might not expect it, but the Air Fryer can produce delicious cakes and other baked goods.
To do this, prepare your mixture as you normally would and add it to a greased baking mould. Remove the divider from the bowl and set the Air Fryer to cake mode.
Once it reaches the correct temperature, put your mixture and mould inside. The hot air helps to create a really light and fluffy texture, whether you're baking a cake or cupcakes.
How Does it Work?
Using the electriQ Air Fryer is really easy, so much so you'll be wondering why you didn't buy one before.
This compact appliance is basically a small, concentrated oven. Air is circulated at your desired temperature evenly throughout the cooking bowl to cook thoroughly and more efficiently than traditional ovens.
What Can it Cook?
The electriQ Air Fryer can cook a wide range of dishes from fried foods such as chips to fish. It can even produce beautifully fluffy cakes, all quickly and to a high, delicious standard.
Simply add what you want to cook, choose your function or temperature and time and the air fryer will do the rest. You'll be enjoying your healthy meal in no time.
Seven Cooking Functions

Chips
Snacks

Meat

Fish

Chicken

Shellfish

Cake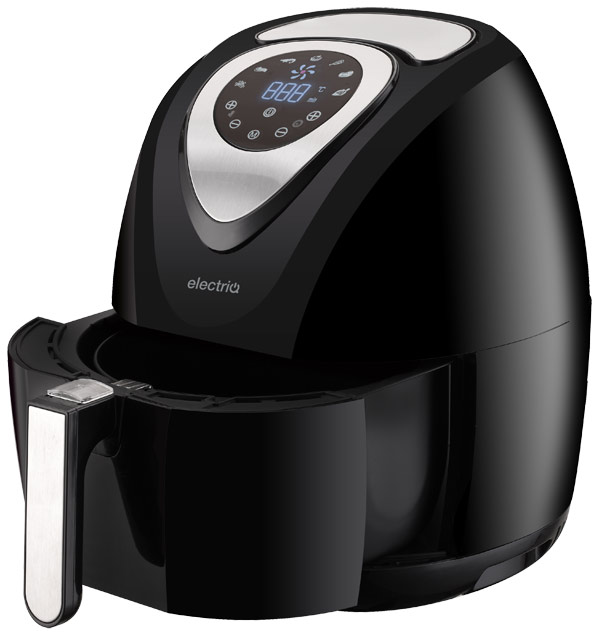 Convenient Design
The electriQ Air Fryer has a slim design that easily fits on any kitchen worktop while being incredibly versatile.
It's large 3.2 litre bowl uniquely features a divider, allowing you to cook separate items alongside each other.
This bowl can easily be removed with a simple push of a button. It is dishwasher safe so you can avoid any cross-contamination of flavours between your different meals.
Check on your meal's progress with the handy digital display. This also makes selecting the correct temperature and setting the timer easy so you are sure to enjoy perfect results each time.
Key Features:
3.2 litre, dishwasher safe bowl
Unique split design for cooking more than one food item together
Requires just one teaspoon of oil for crispy chips
Fry, roast and bake items
Concentrated oven which delivers fast and thorough cooking
7 programmed cooking functions