Product Information
Dimensions:
H5.2 x W59 x D52 cm
Work top cut out dimensions:
W56.5 x D49.5 cm
The Baumatic BHC605 Touch Control 60cm Wide Ceramic Hob offers a spacious and fast cooking experience. The design is sleek, contemporary and frameless, fitting in to your kitchen work top seamlessly.
Hyper speed cooking
The Baumatic BHC605 is equipped with 4 hyper speed cooking zones delivering faster cooking than the standard radiant zones. The 4 hyper speed zones provide the required temperature in a matter of seconds, saving you time in the kitchen.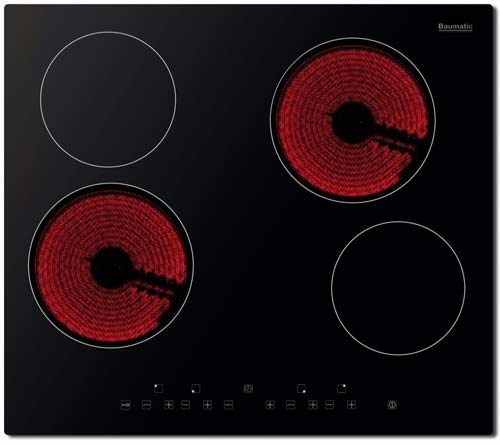 Control at your fingertips
The Baumatic BHC605 has been designed for ease of use, featuring effortless touch control. Program your zones and timer with a simple touch. A safety lock ensures that the control panel of the hob cannot be accidently changed or tampered with during operation and also acts as a safety feature for wondering little fingers.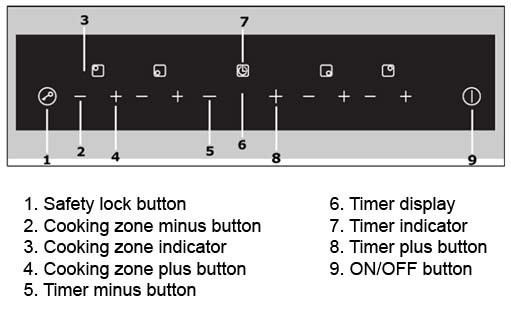 Clear control
With a clear LED display you are always aware of your programmes, each touch control has a visual display that corresponds to it. The BHC605 indicates residual heat, if you've been using your hob for quite some time it will remain hot after use, a 'H' will appear on the LED display to let you know the hob is not safe for touch.
The hob can be used as a minute minder at any time without affecting the cooking process or power settings. The timer is easy to use and displayed on the LED display, letting you know exactly how long is left.
Safety cut off
If you happen to accidently leave your zones on after cooking the safety cut off function will activate after a certain period of time. The time duration for switch of depends on the power level that the zones have been set at. Switch of ranges from 2 to 8 hours.
Features:
Slim-line ceramic design
4 Hyper-speed cooking zones
Touch control
LED display
Safety lock
Electronic timer
Easy clean
Residual heat indicator
2 x 1.8 kW hyper-speed zone, Ø 180 mm
2 x 1.2 kW hyper-speed zone, Ø 145 mm
Frameless
Standard accessories
Ceramic hob scrapper
5 Year parts and 2 year labour warranty