HASSLE-FREE MOPPING AND SWEEPING
Tackle everyday dirt and grime without ever lifting a finger with iRobot's Braava Jet 240 mopping robot. Simply attach a cleaning pad, add water, press CLEAN and the Braava will mop or sweep your floors, even hard-to-reach places, in an efficient, systematic pattern. It's designed to wet mop, damp sweep, or dry sweep hard floors. Plus, the braava is equipped with special sensors to avoid bumping into obstacles or fall down stairs.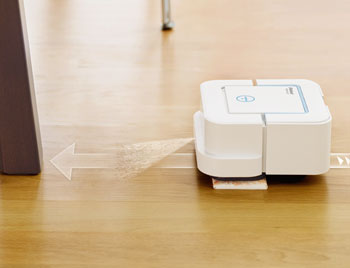 PRECISION JET SPRAY
To help loosen the dirt, both the damp and wet modes employ the Jet's high precision water nozzle to spray the area in front of it. The Braava jet cleverly searches for obstacles in its path before spraying, which helps it it avoid accidentally spraying any expensive furniture. Plus, there's also a vibrating cleaning head to gently remove any stubborn stains.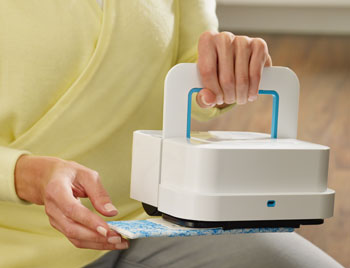 EFFORTLESS CLEANING
Whether you're wet mopping and damp sweeping tor simply dusting, the Braava jet 240 lets you tailor you cleaning using a choice of cleaning pads. Simply attach your preferred cleaning pad, add water is necessary, and the Braava 240 will automatically choose the correct cleaning method based on the pad type. When its done cleaning, you can release the pads without even touching them through a Pad Eject button.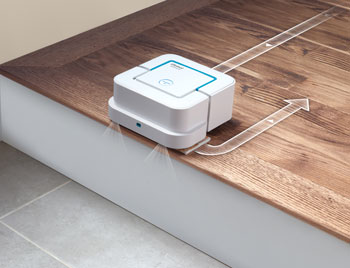 NO WHERE FOR DIRT TO HIDE
The Braava 240 is fitted with a whole host of sensors to ensure it finds its way around your entire room whilst avoiding stairs and other dangerous drops. It's square shape and compact profile is design to reach hard to reach places like under sofas and chairs. It's ideally suited for small spaces, like kitchens and bathrooms.
Key Features
Perfect for cleaning kitchens and bathrooms
Smart design gets into tight spaces
Simple to use - Attach a Braava jet Cleaning Pad, add water and press CLEAN
Carefully cleans around obstacles
150ml water tank will last approximately 3 hours
Cleaning Pads are washable and reusable - last up to 200 uses
Mopping pads contain water-activated cleaning agent - no additional detergents needed!
Automatically detects pad type and adjusts cleaning method
Easy to store and extremely portable
Targeted spray tackles dirt and stains
Designed to wet mop, damp sweep, or dry sweep hard floors
What floor surfaces will it clean?
What's Included?
i x iRobot Braava jet 240
1 x Lithium Ion Battery
1 x Battery Charger
2 x Wet Mopping Pads
2 x Damp Sweeping Pads
2 x Dry Sweeping Pads
Dimensions:
product: 6.7 x 7 x 3.3 inches
Weight: 2.7 lbs