Product Information
Dimensions: H84.5 x W59.7 x D41.6 cm
Slim depth
6kg Drum capacity
A++ Energy class
15 Programmes
Slim-line
The Sharp ES-FA6102W2 has a compact design fitting in to tight spaces where less depth is available. Size doesn't matter as this neat washing machine has a 6kg drum capacity and all the power it needs to get through your daily washing loads.
Simple but effective
The front fascia of the Sharp ES-FA6102W2 is simple and easy to navigate. A large control dial features 15 programmes to choose from, there's bound to be one that's perfect for your washing load. At the front right you have a digital display making it easy to see how long your programmes have left and also to add extra care options to your wash using the buttons below.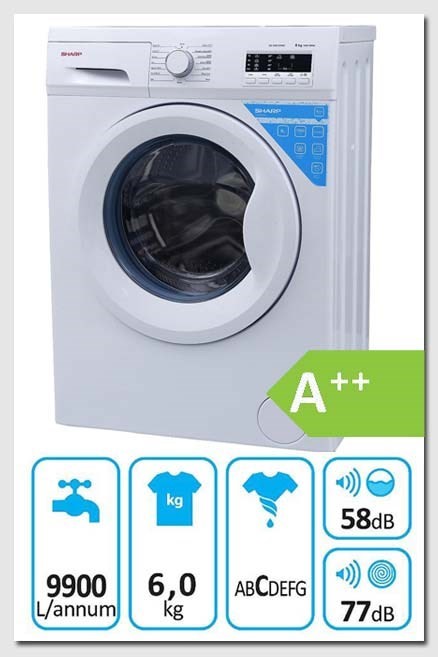 Speedy wash
Get all your daily wears washed in just 60 minutes using Daily 60 or for garments that have only had light wear utilise Rapid 15 and refresh your clothes in just 15 minutes.
With programmes such as Eco 20 you can get an effective wash whilst saving on energy and water usage. There's also specialised programmes for sportswear, delicates and woollen items, each taking care of your garments depending on the fabric make up. Add the anti-allergy function to your wash programme, protecting your family from allergens such as pollen and dust.
Programmes:
Cotton 90
Cotton prewash
Cotton Eco
Cotton 40
Eco 20
Easy Care (Synthetics)
Wool
Rinse
Spin
Handwash/Delicates
Sportswear
Mix wash
Blouses/Shirts
Daily 60 (60 mins)
Rapid 15 min
Features:
Slim-depth
6kg Drum capacity
A++ Energy class
1200 rpm Spin class
15 Programmes
LED indicator
Dedicated anti-allergy programme
Variable spin speed
Variable temperature
Overflow protection
Child lock
Annual energy consumption: 171 kWh
Annual water consumption: 9900 L
Spin performance: B
Washing performance: A
3 Clear promises from Sharp