Product Information
DIMENSIONS: H 1700 x W 540 x D 610mm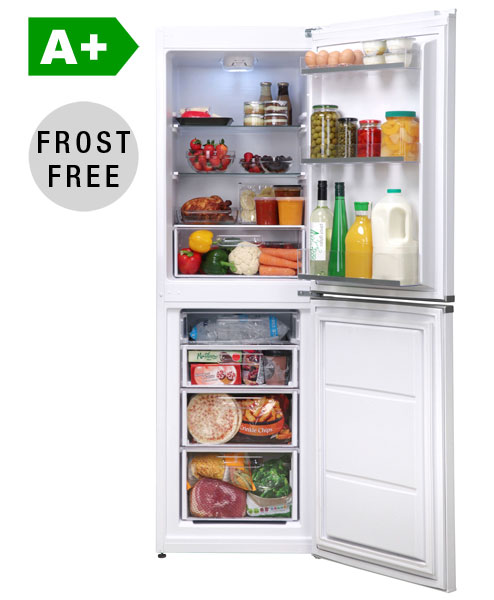 Narrower than most standard upright fridge freezers, the Servis FF54170 provides enough storage space for your weekly shop, with more than enough additional room for special treats and much more. Conveniently ordered and adaptable inside, you can easily make room for larger items.
BRILLIANT FEATURES
Find exactly what you are looking for in less time, with the spacious and beautifully detailed interior. Featuring LED lighting that fills the entire cavity with bright light, you can spend less time with the door open, therefore saving even more energy.
FRIDGE
Three modern, silver edged glass shelves offer plenty of storage space inside the fridge, giving you the ability to separate fresh, raw and cooked items for a more hygienic storage environment. Easily adjustable, you can move two of the shelves to help accommodate taller items. Three door balconies are perfect for anything as small as eggs up to bottles of milk. The salad crisper drawer provides the perfect storage space for fresh fruit and veg, keeping them fresher for longer.
FREEZER
Inside the freezer, there are four differently sized compartments. Three clear fronted drawers and a shelf with a drop down door provide ordered storage for your items, giving you the ability to store the items you need more often in an easy to reach place.
ENERGY EFFICIENT
Designed to save you money and help to protect the environment, the Servis FF54170 offers an energy efficiency rating of A+, using as little energy as possible for the same cooling and freezing power.
FROST FREE
There is no need for you defrost your fridge or freezer, making sure you enjoy the same storage space. Again helping to minimise your energy costs, the automatic defrost feature keeps your appliance running smoothly.
Key Features
A+ Energy rating to save energy
Fully frost free so you never need to defrost again
4 Freezer compartments
3 Fridge shelves
147 Litre usable fridge capacity
78 Litre usable freezer capacity
Dimensions (HxWxD, mm): 1700 x 540 x 610