Product Information
DIMENSIONS: H 195.5 x W 70 x D 76 cm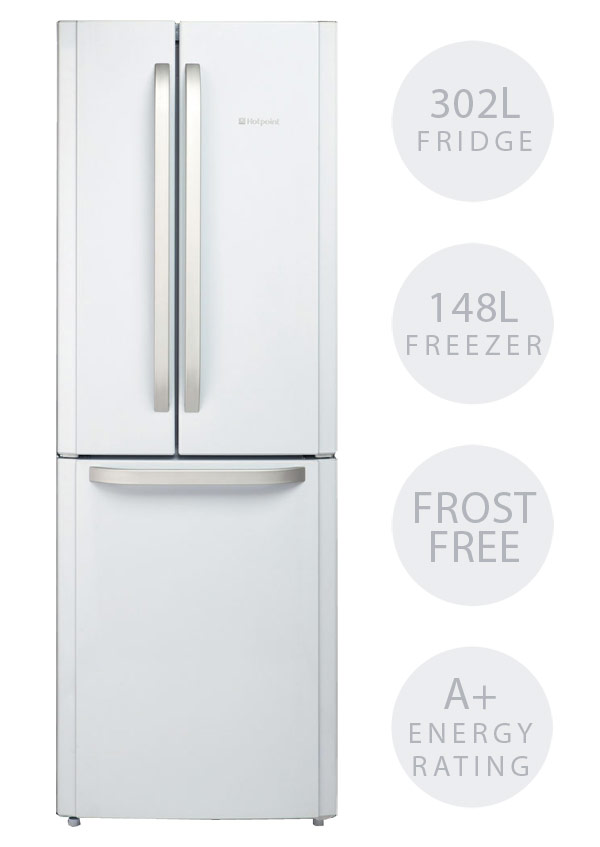 Adding convenience and order to your food storage in the kitchen, the Hotpoint FFU3DW provides the perfect solution to your refrigeration and freezing needs. Perfect for a medium to large household, this fridge freezer presents plenty of room for your weekly shop.
With 450L of storage space offered overall, you'll always have room to spare.
ORDERED STORAGE
Fridge
Three glass shelves provide spacious storage space for keeping your items, giving you the ability to easily separate fresh and cooked items. Six door balconies offer the perfect place for taller bottles and cartons as well as smaller and more delicate items.
Dual salad crisper drawers keep your salad, vegetables and fruit crisp and fresh while the Food Care Zone drawer is the perfect place for fresh meat and fish, ideal for keeping them in top condition.
With an overall 302L capacity, there's less chance of running out of room to keep your items cool.
Freezer
When it comes to freezing, locking in the freshness is key. The FFU3DW offers a Super Freeze compartment, locking in nutrients and vitamins by freezing your items in less time. Two further drawers deliver more than enough space for your frozen items, all within easy reach. Frost free, defrosting your freezer is a thing of the past, keeping it running smoothly for longer. 148L of freezer space means you'll never run short of your essentials again.
EASY ACCESS
Designed to offer a convenient solution to your kitchen storage issues, the FFU3DW makes storing and accessing your items quicker and easier. French style doors give you easy access to the whole fridge and, if you're only taking one item, you can simply open one side, keeping the remaining items cool and fresh inside.
ENERGY EFFICIENT
Enjoy all of this brilliant cooling and freezing power without racking up high energy costs. The A+ energy efficiency rating means you can enjoy convenient and incredible efficiency without using unnecessary amounts of energy, ultimately saving the environment.
An integrated LED temperature display helps you to keep your food at the perfect temperature.
Features
A+ Energy efficiency rating
Frost Free Technology with Fast Freeze Function
Anti-Bacterial Protection
Open Door Alarm
LED Interior Lighting
Multi Door Design for Wider Storage
302 Litre Fridge Capacity
148 Litre Freezer Capacity
(H)195.5cm x (W)70cm x (D)76cm