Product Information
This single electric oven from Indesit has 56 litres of space and 1 cooking shelf. With a clean modern design and 4 cooking functions, this built in oven will be the perfect addition to a modern kitchen and give you the option of flexing your cooking skills further.
Dimensions: (H): 595mm x (W): 595mm x (D): 545mm
How will this look in my kitchen?
The single built in oven is designed to be installed into a tall kitchen housing unit at eye level. This makes it easier to take food in and out, as well as providing more room for your kitchen.
With a clean white design, this single electric oven will compliment any white appliances you might having such as fridges and freezers so that your kitchen design remains looking seamless.
The drop down door is operated by a modern stainless steel handle, and will make taking tending to your cooking much easier.
4 cooking functions
This oven uses a fan to distribute heat evenly around the entire oven so your food cooks evenly no matter which function. To give each meal the best cooking environment, this Indesit gives your 4 cooking options:
Fan: The fan function is ideal for thorough and even cooking, which is perfect for large roasts and baking.
Fan grilling: If you like food crispy on the outside and tender on the inside, then the fan grill function is for you.
Fan grilling: If you like food crispy on the outside and tender on the inside, then the fan grill function is for you.
Defrost: This function hygenically thaws food and will do it in a quicker time frame as it carefully circulates room temperature air around your food.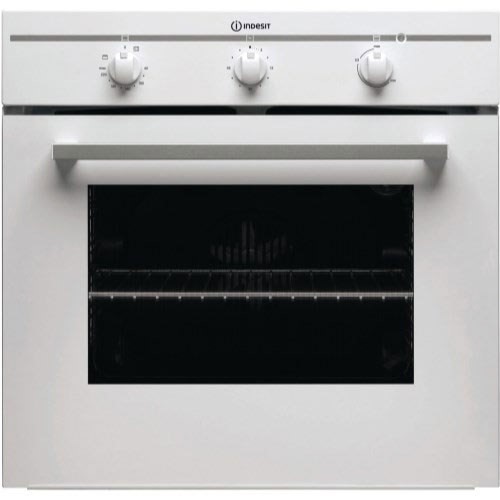 Easy to clean
This single oven comes with an enamel coating on the inside that makes it much easier to wipe away grease and dirt after cleaning so you can keep your oven hygienic with little effort.
Double glazed door
The double glazed door will keep more heat in the cavity so that less air is wasted, earning this single oven an A energy efficiency rating.
Telescopic runner
To save you from lifting a heavy casserole or roast out the oven every time to want to stir or baste, the oven shelf is supported by a telescopic runner that provides extra stability so there is no risk of dishes tipping when pulled out.
Controls
The 3 dials on the front panel have graphics so that adjusting the temperature and function of the oven remains uncomplicated and the thermostat comes with indicators on the front panel so that you know when it's the right temperature for cooking, making it even easier to get perfect cooking results.
Timer
With a countdown function, you can be sure that the food is getting the right amount of cooking time.
In case you want to check on your food during cooking, the inside of the oven has a light so that you can see your food without having to open the door and disturb the temperature.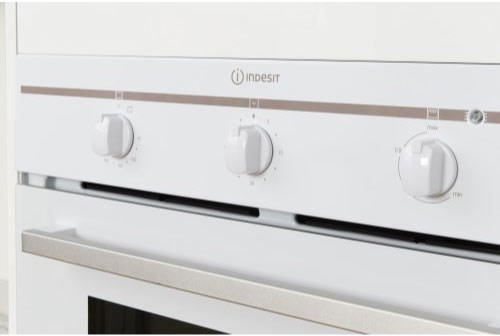 Single electric oven with grill
4 cooking functions
Telescopic runner
Easy to clean enamel interior
Minute minder
3 control dials
Air cooling fan