Bake, roast and grill with the Indesit FIMU23IXS double electric oven thanks to its spacious cavities and multiple functions. Delivering power and versatility for delicious cooking results.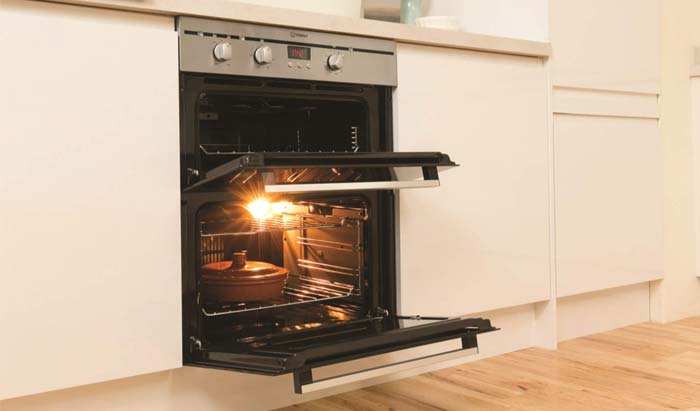 STYLISH FIT
This Indesit double oven has a stylish stainless steel design, suiting all kitchen types. The integrated design enables a seamless and stylish under-counter fit into your kitchen. Please make sure to measure your space accurately to ensure a perfect fit.
Dimensions: H87 x W59.7 x D57.8 cm
SPACIOUS COOKING
Ideal for the family home with a spacious 96L capacity, easily cook multiple dishes at once. With a top oven capacity of 37L and a main oven capacity of 59L there's plenty of space for a variety of dishes that require different cooking techniques.
Main oven – 59L
Delivering delicious cooking using a fan and heating element. Ensures hot air is evenly circulated around your food for better cooking results. Ideal for large family meals.
The oven is easier to clean thanks to catalytic liners, there's no need for endless scrubbing or special chemicals. Thanks to catalytic liners, the oven can burn off and soften excess grease deposits itself, resulting in a simple wipe clean with soapy water from you.
Top oven – 37L
The top oven is a full width grill. Perfect if you want to cook multiple meals that require different cooking methods, or for adding a tasty golden crisp to oven cooked dishes.
VERSATILE COOKING
With the Indesit double oven you can cook multiple dishes at once requiring different cooking methods. Select a function which best suits your food.
Functions include:
Traditional
Fan
Conventional
Defrosting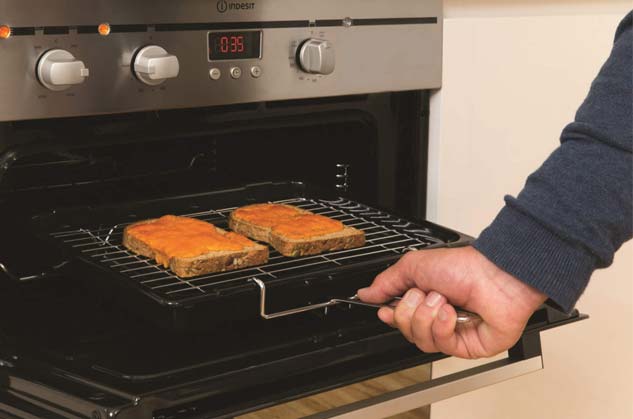 Features:
Integrated double electric oven
Spacious 96L capacity – Top oven: 37L, Main oven: 59L
Versatile cooking with 4 functions
Main fan oven, ensures even air distribution for better cooking results
Top oven includes a full width grill, perfect for adding a golden crisp to your meals
Digital timer for precise cooking
Catalytic liners in the main oven oxidise grease for easier cleaning
Shelf stoppers prevent the oven grids from being over extended
Stylish quality stainless steel
Energy rating: B
Energy consumption: 0.99 kWh