Product Information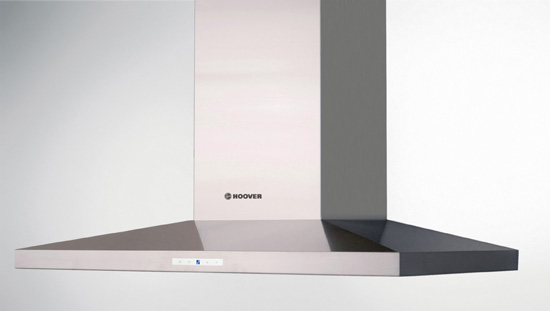 Hoover Cooker Hood
This powerful cooker hood would be great for any home. Featuring a stylish design and powerful motor, this hood combines functionality and style perfectly. Flexibility is at the heart of this hood's design and so you can set up ducted or recycling extraction with this cooker hood, giving you the freedom to choose what's best for your space.
4 Extraction Speeds
4 speed settings allow you to choose the level of extraction that meets the task at hand, this gives you flexible control of the cooking smells, vapours and smoke in your kitchen. An extremely powerful motor clears the air at a rate of 600m³/h which is perfect for kitchens of any size and is capable of clearing an average sized kitchen extremely fast. The innovative push button controls are easy to use and easy to clean making this appliance extremely maintainable; this hood is easy to use and features a stylish stainless steel design.
Easy Cleaning & Timer
2 20w halogen lights illuminate your cooking space, making it easy for you to see what you're doing and they can even be used as additional lighting in the kitchen. 3 dishwasher proof metal grease filters trap the grease released from cooking vapours, despite trapping grease all day long, they are extremely easy to clean, simply put them in the dishwasher and start the cycle! A timer can be activated to tell the hood to only extract air for a certain amount of time, which is great for when you need to leave it running while you're out of the kitchen, the hood will automatically switch off when the pre-set time has passed.
Key Features
4 Speeds
Touch control
Timer
Clean air function
Filter saturation indicator
2 Halogen lights
Extraction or re-circulating modes
Dishwasher proof grease filters
High-powered motor
Stylish design
Please note: This chimney hood is designed to be fixed to a wall.