Product Information
The double electric cooker from Hotpoint is stylish, easy to use and spacious. With a combined 100 litres worth of space between the main oven and the top oven, this appliance will be great for cooking a large family meal, as well as baking and grilling tasty snacks.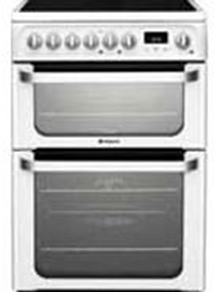 Circulaire Fan Main Oven
Using a large fan to circulate the hot air around your food, this circulaire fan oven will ensure that each of your dishes in the oven are cooked thoroughly and evenly.
If you want to keep an eye on your food, the oven light will allow you to see clearly inside without having to open the door.
The triple glazed oven door is designed to be cooler to the touch, so you don't have to worry about brushing up against the door, and the triple glazing retains more of the heat which will save you money on those energy bills.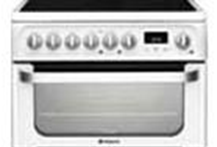 Top Oven
The top part of the oven is both a grill and a conventional oven, which makes this a very versatile and flexible part of the appliance.
Whether you want to whip up a tasty grilled cheese on toast under the twin variable grill or simply keep some dishes or plates warm under the conventional oven setting, you can be sure that the top oven will be there to give you a helping hand when you most need it.
Ceramic Hob
The ceramic hob on the top of this cooker has 4 zones and 2 zone sizes for the ultimate cooking convenience. It even comes with 1 Solarglo circular dual zone – a zone that is flexible enough to heat two different sizes of pans as well as heat up twice as fast as conventional ceramic zones.
The dial controls give you excellent control over the temperature going to your cooking, giving you a hov that is powerful, versatile and convenient.
Electronic Programmable Timer
Cook to your schedule with the electronic programmable timer for the main oven. With intelligent timing programmes, you can set the oven to start cooking when you want it to, even when you're out of the house. Ideal if you're running short on time, this timer can have your evening meal ready when you come home.
Easy to maintain
Stay clean catalytic liners can be found on the sides of both the ovens. Absorbing and burning off food splatters in the oven, it uses the ovens heat to clean themselves so you don't have to, giving you time to sit back and relax after all that cooking.
Technical information:
Please check this information carefully to ensure your power supply is suitable for this appliance.
Ceramic Hob zones:
1st heating element: 1.8/0.8 kW
2nd heating element: 1.2kW
3rd heating element: 1.2kW
4th heating element: 1.8kW
Connected load (W): 10700
Fuse size (A): 44.60
Voltage (V): 230-240
Frequency (Hz): 50
Without Plug
Circulaire main fan oven
Conventional top oven
Twin variable grill
Ceramic hob with 2 zone sizes
1 Solarglo circular dual zone