Product Information

HAIER DUO – EXTRA DRUM FOR EXTRA TIME
Speed through your laundry with the Haier DUO washing machine, the first washing machine of its kind. Equipped with two drums you get an impressive 12kg washing capacity. An excellent choice for busy households as you can wash different loads on different cycles simultaneously, perfect if you want to separate your whites and darks or simply have a mound of washing to get through.
QUALITY WASHING
Top drum
The top drum has been specially designed to carefully take of your delicate items and children's clothes. This drum has a capacity of 4kg with 12 programmes on offer and a maximum spin speed of 1200rpm.
Bottom drum
The bottom drum can cater to a variety of your garments with ease and has a spacious capacity of 8kg. This drum has 18 programmes to select from and reaches a maximum spin speed of 1500rpm.
Platinum drums ensure the washing quality is excellent and both drums have a Pillow Effect finish which ensures clothes are treat as carefully as possible to maintain their quality, colour and vibrancy. Dual Star balance system ensures the top and bottom drum operation is balanced, steady and silent. There's no damping and washing is super silent at just 70dB at it's loudest on spin.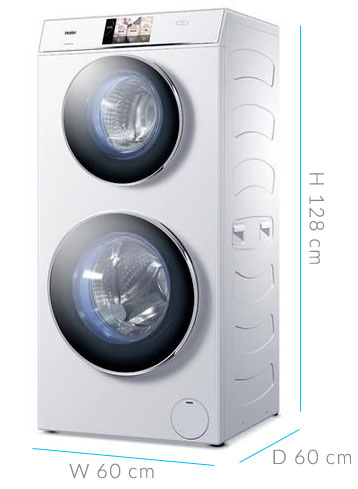 INTERACTIVE USER INTERFACE
With the Haier Duo you get clear visibility and detail of each programme per drum thanks to a stylish LCD touchscreen. Easily select your programmes and go into detail, select stains from a specified list, including wine, grass, blood and more. Set a timer delay and decide exactly when you want the machine to start, wash while you're out or at night. The display will show you exactly how long your programme will run, how many rinses the laundry will go through, the set temperature and spin speed. There's even in-built video tutorials to browse.
BUILT TO LAST
This robust washing machine has been equipped with 2 beltless Smart Drive inverter motors which have been made for power and durability. In the unlikely case that the motorS fail you can rest at ease as the motors have a lifetime warranty.
SMART DUAL SPRAY
The washing machine helps keep its self in tip top condition. This unique technology removes any fibres that may become blocked, so your machine maintains its excellent washing quality.
ANTI-BACTERIAL TREATMENT
This smart treatment eliminates 99.8% of bacteria which may build up within the washing machines gasket and detergent drawer. Keeping these areas spotless provides a much more hygienic washing environment, keeping your clothes fresh.
ENERGY EFFICIENT
This clever machine analyses the load of washing and the dirt levels, this way it can only use the amount of softener and detergent needed for a quality wash. An eco-friendly way to wash whilst saving you money on buying less detergent.
There's no need to worry about the cost effects of this washer, although large it has been rated A+++ for energy efficiency! Making it kinder to the environment and your energy bills.
Pre-Wash
Cotton
Synthetics
Silk
Wool
Cashmere
Baby Care
Daily Wash
Express 15 min
Comfort 40
Sport
Duvet
ECO
Intensive
Delicate
Hand Wash
Features:
Double drum designs, speed through your laundry
Wash two loads of washings on different cycles simultaneously
4kg Top drum & 8kg bottom drum
12 Top drum programmes & 18 bottom drum programmes
7" LCD touchscreen, easily change the settings per drum
Variable temperature control
Max spin speed: Bottom drum - 1500rpm & Top drum - 1200rpm
Specially designed top drum for delicates and childrenswear
Practical 24hr timer delay, wash at your convenience
SD inverter motor, built for power and durability
Both drums have Pillow Effect finish, treats clothes as delicately as possible
Anti-bacterial treatment provides a more hygienic washing environment
Smart dose technology analyses dirt and load to deliver accurate detergent levels
Smart dual spray ensures washing performance is maintained
Drum lights for clear visibility when loading laundry
5 Languages
Energy rating: A+++
Annual energy consumption: 198 kWh
Annual water consumption: 11840 L
Spin performance: B
Noise level: Wash - 58dB and Spin – 70dB
2 Year manufacturer warranty
Dimensions: H128 x W60 x D60 cm
Weight: 116 kg
Boxed dimensions: H142 x W68 x D70 cm
Boxed weight: 128 kg