Product Information
DIMENSIONS: H 371 x W 594 x D 296mm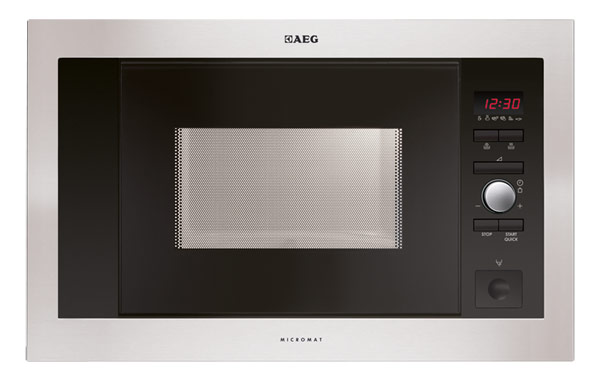 The perfect partner for your oven, the AEG MC1763E-M integrated microwave provides extra cooking space, without wasting any room on your counter. Widening the range of cooking options available, this is the perfect addition to any kitchen.
Providing a 17L capacity, this microwave is ideal for those smaller items. Fantastic for preparing dishes to contribute to a larger meal, you can time every item to be ready together.
SEAMLESS INTEGRATION
Modern and simplistic in design, the black and stainless steel appearance of the MC1763E-M allows for seamless integration into any kitchen style. Adding a touch of order to your kitchen layout, this microwave complements your other appliances for a coordinated look.
An anti-fingerprint coating helps to keep this microwave looking as good as new, even after plenty of use.
EASY OPERATION
Featuring simplistic controls, including a rotary dial and electronic push controls, you can quickly and easily select the perfect settings to suit each task. Keep an eye on the remaining time as well and choose the right settings with the large, clear display.
The Quick Start function is ideal for re-heating smaller dishes or smaller cooking jobs, working under pre-programmed settings for fast heating results. Auto-weight defrosting takes into account the weight and type of item, determining the best conditions for the most hygienic results.
Defrost, cook, keep warm and more, all from the same handy and built in appliance.
SAFETY FEATURES
Built into your unit, the MC1763E-M microwave is safe from any knocks or movements when in use, also freeing up vital surface space. With child lock controls, little hands cannot change any settings, ensuring your results are of the highest standard each time, with an overall safer cooking environment.
Key Features
To fit within a standard niche, this 60cm wide microwave can accommodate all your microwave needs
800W microwave with 5 power levels for cooking flexibility
The Active display allows you to change settings whilst the microwave is operating for added versatility
Take away the guesswork, with the autoweight cooking and defrosting programmes, all you need to do is enter the weight and let the microwave do the rest
With the touch of one button, the Quickstart function cooks for 30 seconds
Controls can be locked for additional safety and prevent alteration to cooking selection
Glass turntable
Fully built-in, no kit required
Suitable for under counter installation